The Upper Dolpo Circuit Trek via Shey Gompa and beautiful Phoksundo lake passes through beautiful valleys, exciting places, local settlements, massive mountains and greenery forest of pines, Rhododendrons, Oaks, etc.
Trekking in Dolpo region takes you into one of the most remote areas of Nepal such as Samagaon & Samdo villages during Manaslu circuit trek. Dolpo region, situated between the Tibetan plateau and the Dhaulagiri ranges was closed to trekkers until 1990.
The customs, traditions, cultures in the Dolpo region are quite similar to those of Tibetan peoples. The local peoples of you will meet during the trek mostly speak Tibetan languages.
The beautiful landscapes of mountains, gompas, spectacular lake Phoksundo & local peoples tradition/ culture during this upper Dolpo trek Nepal will leave a memorable impression on you. Shey Gompa is an 800-year-old Monastery situated at the base of Crystal Mountain, a spiritual heart of Upper Dolpo.
Furthermore, the upper Dolpo circuit trek in Nepal cannot be done individually without a guide because of having restricted area trekking. The highest altitude you will reach during this upper Dolpo to Jomsom trek is Kang-La pass at an elevation of 5,360m/17,580ft.
Highlights
The tranquil beauty of Phoksundo Lake
Oldest monasteries in the country
Isolated villages of Ringmo
The abundance of Himalayan wildlife (Musk Deer, Himalayan Blue Sheep, and rare Snow Leopard)
How to reach Upper Dolpo for trekking
There are daily flights from either Kathmandu or Pokhara to reach Nepalgunj. Furthermore, Nepalgunj is also accessible by the long journey of the local bus. And then to Juphal by next morning flight. The reason you have to two flights is that it's not possible to fly directly to Juphal from Kathmandu, except expensive charter flights. Although sometimes bad weather can often delay flights to Juphal like flights of Lukla while doing Everest base camp trek.
Best Season to do Upper Dolpo Circuit Trek in Nepal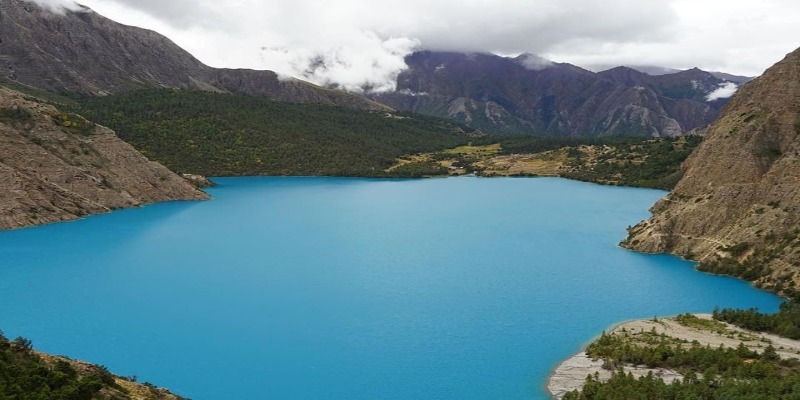 Like any other treks of Nepal, the best time to do Nepal Upper Dolpo Circuit trek is the Autumn (October to November) and the month of May in Spring. Because during these seasons in Nepal, pleasant temperatures, and clear sky, will make trekking more comfortable even for the first time trekkers having the minimal chance of snow at high altitudes.
Upper Dolpo Circuit Trek Difficulty
Trekking in Upper Dolpo region of Nepal is considered as one of the challenging treks in Nepal. Best treks in Nepal such as Upper Mustang trek, Annapurna base camp trek can be done by anyone without having any experience of trekking. But the trekking in upper Dolpo is only recommended for experienced trekkers.
The three major passes above 5000 m, Nagdalo La (5360 m), the Shey La (5010 m) and Jeng La (5220 m), long trekking days of 6/7 hours make the trek strenuous. By following a proper itinerary having rest days in between will help you to finish the trek without any hassle.
Upper Dolpo trekking permit cost
Upper Dolpo trek in Nepal is a restricted area trekking in Nepal, for which a fee is charged $ 500 for the first ten days, and $ 50 for each additional day. There is also an Rs. 1000 entry fee to the Shey-Phoksundo National Park.
Day 01: Fly from Kathmandu to Nepalgunj(150m) – 1 hour.
Day 02: Fly from Nepalgunj to Jhupal (Dolpo) (2,320m) and trek to Dunai(2,338m) – 3 hours.
Day 03: Dunai to Ankhe(2,896m) – 6 hours.
Day 04: Ankhe to Sulighat(3,180m) – 6 hours. Overnight at Guest House.
Day 05: Sulighat to Phoksundo Lake(3,610m) – 5 hours.
Day 06: Acclimatization at Phoksundo Lake(3,610m) – 2 hours.
Day 07: Phoksundo Lake to Phoksundo Khola(3,507m) – 5 hours.
Day 08: Phoksundo Khola to Phoksundo Bhanjyang(3,910m) – 7 hours.
Day 09: Phoksundo Bhanjyang to Shey Gompa(4,500m) via Kang-La pass (5,360m) – 6 hours.
Day 10: Acclimatization at Shey Gompa(4,500m) – 3 hours.
Day 11: Shey Gompa to Namduna Gaon(4,800m) via Saldang La (5,200m) – 7 hours.
Day 12: Namduna Gaon to Saldang(3,620m) – 5 hours.
Day 13: Saldang to Yangze Gompa(3,960m) – 5 hours.
Day 14: Yangze Gompa to Sibu(4,560m) – 7 hours.
Day 15: Sibu to Jeng La Phedi(4,900m) – 6 hours.
Day 16: Jeng La Phedi to Tokyu Gaon(4,209m) via Jeng La pass (5,090m) – 6 hours.
Day 17: Tokyu Gaon to Dho Tarap(4,040m) – 5 hours.
Day 18: Acclimatization at Dho Tarap(4,040m) – 2 hours.
Day 19: Dho Tarap to Tarap Khola(3,800m) – 7 hours.
Day 20: Tarap Khola to Khani Gaon(3,150m) – 5 hours.
Day 21: Khani Gaon to Tarakot(3,537m) – 5 hours.
Day 22: Tarakot to Dunai(2,850m) – 6 hours.
Day 23: Dunai to Jhupal(2,320m) – 3 hours.
Day 24: Flight from Jhupal to Nepalgunj and Nepalgunj to Kathmandu.