Upper Mustang trek is one of the best treks in Nepal. Upper Mustang is also known as Mountain Desert of Nepal. Kingdom of Lo, Upper region of Mustang is a remote and isolated region of the Nepalese Himalayas.
Trekking to Upper Mustang was a restricted demilitarized area until 1992 which makes it one of the most preserved places in the world. The trek to Upper Mustang is a lovely trek that you experience the best holiday trip ever in your life.
In this Upper Mustang tea house trek, you can explore the hidden world of the old Buddhist kingdom of Mustang. It highly preserves the Tibetan culture and unspoiled nature.
Furthermore, Upper Mustang is not very well known to tourists, therefore, will have lesser trekkers.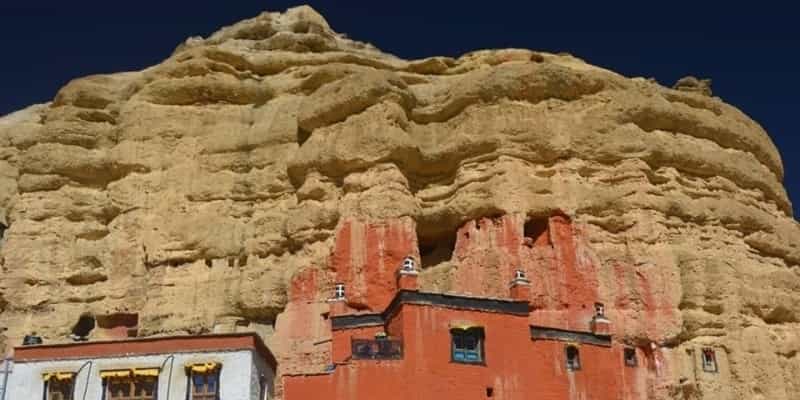 The starting point of the upper Mustang trek is the district headquarters of Mustang, Jomsom reachable by a scenic flight.
Similarly, also accessible by walk from Ghorepani to Jomsom trekking route. You will walk to Kagbeni which is the gateway to Upper Mustang.
On the way up, you will get to see a great view of Nilgiri, Annapurna, Tilicho Peak, and YakawaKang. Experience some of the most significant and most beautiful Tibetan Buddhism gompas in Nepal in Lo Manthang.
Upper Mustang Trek Highlights
Here are the highlights of the Buddhist Kingdom, Lo Manthang trekking to Upper Mustang in Nepal.
Explore the historical Royal Palace of king Lo at Lo Manthang.
Walk without worrying about the rain as the upper Mustang region lies in the rain shadow area of Annapurna and Dhaulagiri ranges.
Get a chance to see a glimpse of Tibetan Buddhist influence, culture and traditions of the local people in Nepal.
Colourful barren hills, beautiful view of Dhaulagiri and Annapurna ranges, and swinging barley fields etc.
Upper Mustang Trek Itinerary
| DAYS | ITINERARY | ALTITUDE | TIME |
| --- | --- | --- | --- |
| Day 01 | Drive from Kathmandu to Pokhara | 900 m | 6 hrs |
| Day 02 | Fly to Jomsom & trek to Kagbeni | 2,810 m | 4 hrs |
| Day 03 | Kagbeni to Chele | 3,050 m | 6 hrs |
| Day 04 | Chele to Syanbochen | 3,475 m | 7 hrs |
| Day 05 | Syanbochen to Charang | 3,560 m | 7 hrs |
| Day 06 | Charang to Lo Manthang | 3,770 m | 5 hrs |
| Day 07 | Acclimatization Day at Lo Manthang | 3,770 m | 6 hrs |
| Day 08 | Lo Manthang to Drakmar | 3,800 m | 7 hrs |
| Day 09 | Drakmar to Ghiling | 3,860 m | 6 hrs |
| Day 10 | Ghiling to Chuksang | 3,050 m | 6 hrs |
| Day 11 | Chuksang to Jomsom | 2,700 m | 6 hrs |
| Day 12 | Fly back to Pokhara | 900 m | 30 minutes |
| Day 13 | Drive back to Kathmandu | 1,400 m | 6 hrs |
Note: You can customize your own itinerary according to your physical fitness, level of interest & walking habit. My suggestion would be if you have children & old aged people on your group with no experience of walking 6/7 hours a day add 1/2 days extra to make it more comfortable or hire a jeep on some places to avoid feeling difficult.
Extend Options
The trek can be possible to extend if you have many holidays and want to visit other places too.
From Kagbeni after ending Upper Mustang, you can either choose to do Annapurna Sanctuary or Annapurna Circuit both.
Upper Mustang trek with Tiji Festival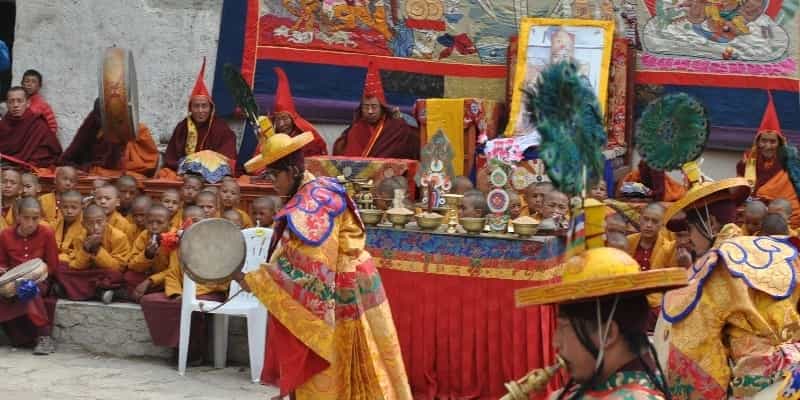 Tiji festival of the upper Mustang is a fascinating annual three-day festival. Consisting of Tibetan rituals that celebrate the myth of a son who had to save the Mustang kingdom from destruction.
The festival is indigenous to Lo-Manthang, also one of the most waiting festivals in the Hidden Kingdom of Mustang.
The unseen traditional culture of Local peoples, as well as the Tibetan ritual festival, attract the Tibetan cultures lovers every year.
To join the Upper Mustang Tiji Festival trek, you have to do the trek in the third week of May. The exact day goes according to the Buddhist calendar. Tiji (Tenji) Festival 2020 Dates are from 19th May 2020 to 21st June 2020.
Upper Mustang Trek Permit
Before 1992 the region was banned from visiting for foreign travellers. Later, Nepal Government Department of Immigration started to issue only a small number of special trekking permits.
All non-Nepalese resident needs a permit to enter Upper Mustang. Everyone entering the Annapurna Conservation Area Project (ACAP) area requires an entry permit which costs NPR 3000(around $30) per person for a single entry.
Besides, if someone is going into Upper Mustang (from Kagbeni onwards), they require a Special Restricted Area Permit(RAP) costs $500 per person for 10 days.  If longer is needed, an additional $50 per day is charged.
No, any other permits require, for instance, TIMS card for Upper Mustang as the RAP is sufficient.
Please keep in mind that Individual trekkers cannot obtain the restricted area permit for Upper Mustang themselves. Only registered trekking company in Nepal can make RAP permits.
Best Time To Visit Upper Mustang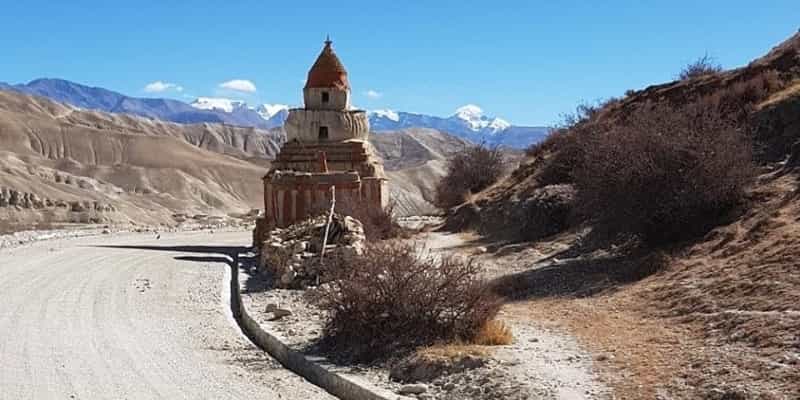 As across the whole seasons of Nepal, Autumn(September to November) is the best season to visit the incredible Upper Mustang. Excellent weather, great landscape, and magnificent mountain views attract the travelers in this season. As the temperatures range from 12 to 20 degree, Blue skies with clear mountain views make the trekking unforgettable.
Upper Mustang Trek Difficulty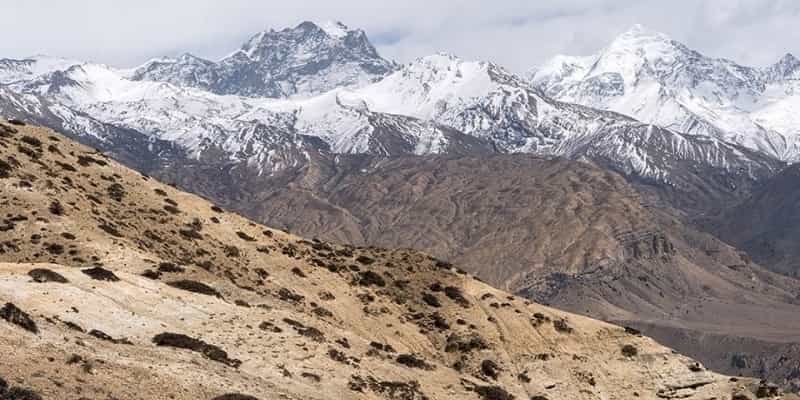 Upper Mustang trek in Nepal is restricted area trekking route but not the remote area. While talking about trek difficulty, Trekking to Upper Mustang is an easy trek with no difficulty.
The upper Mustang trek takes to the highest point at Drakmar (3,800m). Just be prepared to walk for approx 6 to 7 hours on a daily basis. With a moderate level of fitness, you can easily complete this trek without any hassle.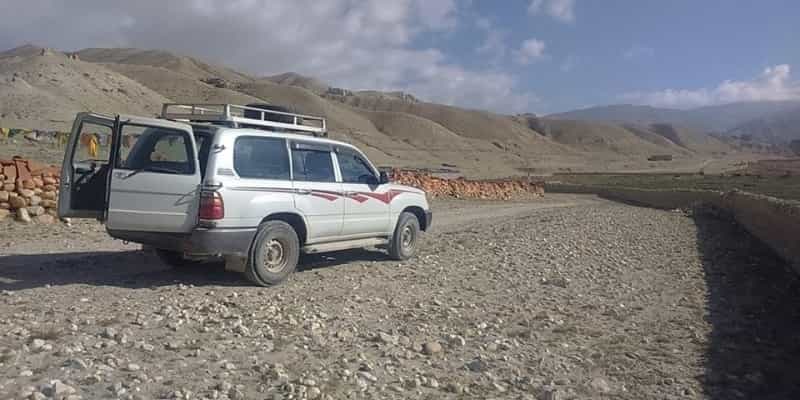 Lo Manthang and Upper Mustang jeep tour is a recently started adventure tour in Nepal. After the completion of roadways in the region, Upper Mustang is a popular jeep tour destination nowadays.
In fact, Upper Mustang trek is the only trek in Nepal which can also be assessable by drives.
Upper Mustang Jeep tour saves your hiking days but provides more time to visit and explore around. It is a combination of a road trip with sightseeing and explores around and all the possible places in the region.
The tour could be done for as less as six days in minimum to as much as you want to make it longer. The background view of the desert-like landscape, White mountain view of Nilgiri and Dhaulagiri, barren ridges, deep canyons, eroded cliffs, and moraine valleys makes your trip unforgettable one.
It is the best alternative to the 13 days trekking to Lo Manthang, to visit the isolated and pristine land of both Lower and Upper Mustang, in a short period.
The fascinating tour is a drive through the motor road of Marpha-Jomsom-Kagbeni to the following bumpy terrains until Lo Manthang, and back through the same route.
This tour is for those adventure lovers who are unable to do multi-days trek by a physical condition or for those who have minimal time but want to visit Upper Mustang.
The tour is also fit for all age group. During your short tour to Upper Mustang, You can explore the landscape, culture, lifestyle, ancient caves, monasteries, etc.
The benefit of taking a jeep tour is you will have enough time to visit all the ancient places, historical caves and other monuments of the region. Furthermore, You do not have to walk through the dusty and dry route. You can escape the long daily walk of the dusty trails by comfortable 4WD drive.
Drive from one place to another, allows you enough time to explore all the sights and escape two or more days of walking itinerary to one day.
The best time for this Mustang jeep trip is from March to November. The thing you need to keep in mind is, you will still need a particular restricted area and ACAP permit to do a Jeep tour also. And the cost and criteria are also the same as the Upper Mustang trek.
Upper Mustang Jeep Tour Itinerary
| DAYS | ITINERARY | ALTITUDE | TIME |
| --- | --- | --- | --- |
| Day 01 | Drive from Kathmandu to Pokhara | 900 m | 6 hrs |
| Day 02 | Drive from Pokhara - Beni to Tatopani | 2,600 m | 7 hrs |
| Day 03 | Drive from Tatopani to Kagbeni (Visit Muktinath Temple) | 2,800 m | 6 hrs |
| Day 04 | Drive to Ghami Village via Syngboche Pass | 3,520 m | 6 hrs |
| Day 05 | Drive to Lo-Mangthang | 3,770 m | 3 hrs |
| Day 06 | Acclimatization Day at Lo Manthang and Chosar | 3,770 m | 4 hrs |
| Day 07 | Drive back from Lo Manthang to Jomsom | 2,745 m | 8 hrs |
| Day 08 | Fly back to Pokhara | 900 m | 30 minutes |
| Day 09 | Drive back to Kathmandu | 1,400 m | 6 hrs |
Upper Mustang Trek Cost
The cost of the upper Mustang trek will be more expensive due to the expenses on the permit as the single RAP permit will cost $500. The total cost of the Upper Mustang trek will be $ 1,799. Trip cost including foods & accommodations during the trek, guide, porter, necessary transportations like domestic airfare, etc.
Following are the Upper Mustang Trek Costs
1. Transportation Expenses:
The trek begins from Jomsom. To reach Jomsom, you have to go Pokhara first because Jomsom Flight can be only taken from Pokhara airport. You can reach Pokhara either by a local bus, tourist bus, private jeep/ car or even flight.
The local bus would cost around USD 5 per person, and a tourist bus will be around USD 8. Hiring a private Jeep/ car will cost approx USD 100 to 120 each way. Kathmandu to Pokhara flight cost will be USD 120 per person one way, and further Pokhara to Jomsom Flight costs USD 110.
However, you can take a drive from Pokhara to Jomsom or either directly to Kagbeni too. The same case applies at the end of the trek returning from Jomsom to Kathmandu.
2. Upper Mustang Trekking permits:
Necessary permits for Upper Mustang trekking in Nepal is ACAP permit, & Restricted area permit. Upper Mustang Restricted Area Permit costs USD 500 per person for ten days and extra $10 per additional day.
For ACAP, NPR 3000(around $30) a piece per person is required.
If you choose to do Annapurna circuit trekking too, which means trekking further to Thorong La Pass or Annapurna base camp to extend your trek days, then a TIMS card will be required which cost NPR 1000($10 approx).
3. The cost of Guide and Porter:
You are not allowed to trek individual in Upper Mustang at least one authorized person from trekking company is necessary for the trek. So, if you hire a professional guide, on average USD 20 to 25 per day is charged which includes the guide's food, accommodation, equipment, and insurance.
But, if you are thinking of taking only the porter to reduce your cost. Roughly, the charge is 15 to 20 a day including necessary equipment, food, insurance, and accommodation.
4. The cost of accommodation:
Upper Mustang trek is a tea- house trek, camping is not required. The price for one twin sharing room is roughly USD 5 to USD 7 per night. If you want one bedroom so you could sleep on your own(not on twin sharing), please be reminded that you must pay for the total cost of the room, meaning the price for two people.
5. The cost of food and drinks:
In Upper Mustang, nowadays all things are being transported directly by bus or jeep. The price of foods is generally lower than the places such as Gorakhshep during Everest base camp trek & Dharmasala during Manaslu circuit trek. Roughly 5 USD per meal, i.e., USD 15 to 20 on a daily basis.
The cost may vary depending on your no. of snacks and your beverages. The price of drinks is similar to other regions. A cup of tea and coffee costs USD 2 – 3 and USD 3 – 4 respectively. Similarly, the cost of beer is USD 4 – 5 whereas a bottle of water/soda will cost you USD 1 – 4.
6. Other miscellaneous costs:
Miscellaneous cost includes for other things like charging your gadgets (mobile phone, camera, etc.), or for bucket shower, heated by gas or firewood, etc. As these trails are tourist areas, the cost cannot be expected to be cheap but not that much expensive too just a few dollars extra will be enough.
Your visit to monasteries, gumba, stupa at Lo Manthang also needs entrance fees could be around USD 20-30. Even there will always a charity box to keep safe those centuries-old monasteries, cave, Gompas like Swayambhunath, Boudhanath during Sightseeing in Kathmandu.
And your porter and guide expect tips from you as gratitude. These things depend on your willingness and experience and also their services during the trek. We recommend at least 10% of the total amount you paid to the local company to plan your trek.
Conclusion
In conclusion, Upper Mustang trek is an entirely more relaxed and comfortable trek for all kinds of age groups. And most importantly, this trek is a highly recommended trek for those who love views of Landscape and enjoy learning History, Culture, and Tradition rather than only Mountain views.
Are you thinking to visit Upper Mustang for your next holiday? Take a look at our 13 Days Upper Mustang Trekking Package at just $1,899. Price including Three meals a day, Accommodation, Private Guide, Necessary trekking equipment, land, and air transports, and many more.