Tilicho lake, the world's highest lake located in Manang District of Nepal at an altitude of 4,919 m. It lies on the Annapurna Circuit, one of the best trekking routes in Nepal. Among different trek to Annapurna regions, Tilicho Lake trek is famous for its religious point of view as many Hindu pilgrims from around the world will visit this lake. Read our Tilicho Lake trek blog to know everything about how to reach tilicho lake.
Major attractions of Tilicho Lake trekking are the eye-catching views of the Annapurna and Dhaulagiri ranges and other white Himalayas above 5,415m. The trek is undoubtedly providing some majestic panoramic views of Mt. Manaslu, Mt. HimalChuli, Mt. Machhapuchre, Mt. Dhaulagiri, Mt. Annapurna and many more.
The trip to Tilicho Lake is a perfect package to witness natural scenery and learn about the unique culture & hospitality of local peoples in this region. Tilicho lake and surroundings are the best places for Photography too. Mountains over the lake make a perfect picture. The lake, itself is beyond one's imagination. Among different seasons in Nepal, The best season to visit Tilicho is from February to May and September to November.
Tilicho Lake is situated at an altitude of 4,919 m (16,138 ft) in the Annapurna range of the Himalayas and is known as the highest lake for its size in the world.
Short Tilicho Lake Trek Itinerary from Kathmandu
Day 01: Drive from Kathmandu to Besisahar(8hrs) on a Public Bus.
Day 02: Drive from Besisahar to Khangsar / ShreeKharka on a public bus (you can hire 4-wheeler so that you get to places on time).
Day 03: Trek to Tilicho Base Camp.
Day 04: Early Morning hike up to Tilicho Lake(5hrs). Visit Lake & walk down to Shreekharka.
Day 05: Drive from ShreeKharka to Besisahar on a public bus(7 hrs) & Further Drive from Besisahar to Kathmandu on a Microbus. You can stay overnight at Besisahar & Take an early morning bus to reach Kathmandu too if you have a proper holiday.
Tilicho Lake Trek Cost For Nepali
Tilicho lake trek cost for Nepali by bus, it wouldn't cost more than 12-14000NPR depending on how much you spend and how big of a group you have, because more people in the group will minimize the living costs. But if you chose to go to Tilicho on a four-wheeler will cost higher.
Tilicho Lake Trek Cost For Foreigners
For foreigners, It will cost around $200 as they need to buy TIMS & ACAP(Annapurna Conservation Area Project) Permit from Nepal tourism board.
TIMS card will cost NPR 1,000 for trekkers planning a trip via local trekking company & costs NPR 2,000 for Free individual trekkers per trek per person.
Furthermore, for SAARC countries residents TIMS card will cost NPR 300 and NPR 600 respectively for trekkers accompanied by trekking company and free individual trekkers.
Likewise, ACAP permit will cost NPR 3000 for trekkers from foreign country & NPR 1000 for SAARC countries residents. ACAP Permit cost is same for trekkers trekking with a guide & trekking individually.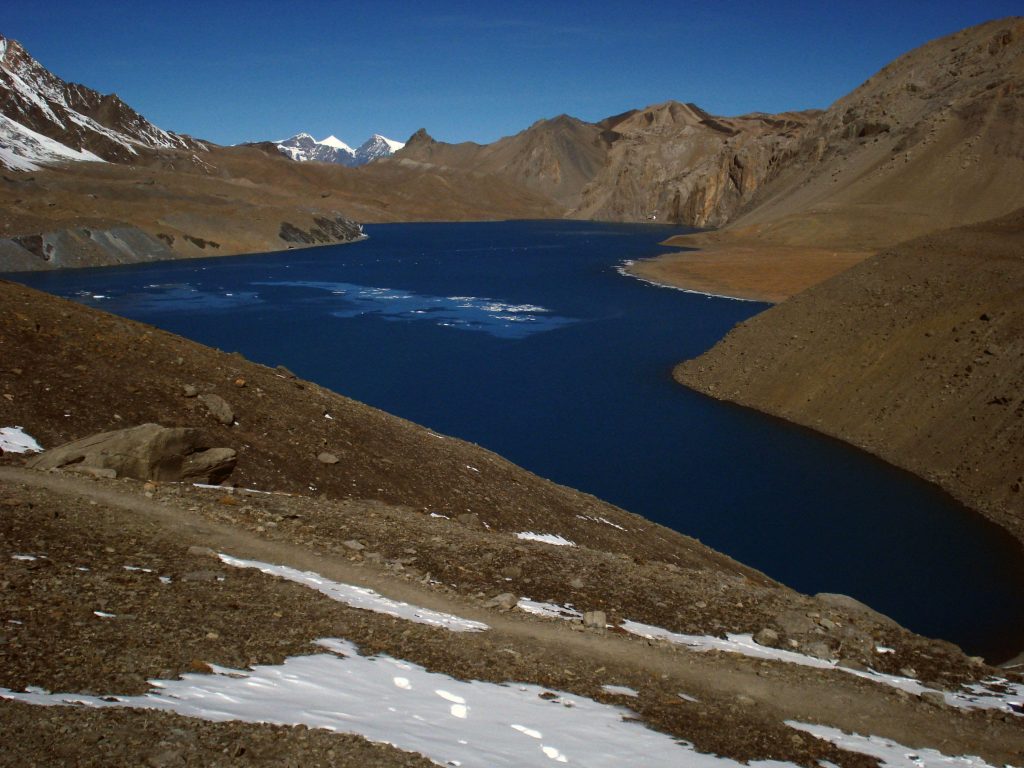 Tilicho Lake Trek Difficulty
Tilicho Lake trek doesn't require climbing expertise, and there are no technical climbing sections. With a basic fitness level, you should be able to trek the route. I have seen old and young, overweight and underweight complete the trek – all with a smile on their face. So, finally, Tilicho lake trek is not difficult.
Additional Information For Tilicho Lake Trekking
Bus to Besisahar, You can take from Gongabu, Kathmandu. Instead, you can book online from Bussewa too. Onward buses you can find on the way on public bus park. You can also ask local peoples.
If you want to reach Tilicho on the more comfortable way then its better to go on Jeep either directly from Kathmandu or Besisahar.
Tilicho Lake Trek Map
If there were any update on the Tilicho Lake Trek, We would keep updating on this blog. For more information, you can directly contact us or leave us a comment below.
Here is the awesome video of Tilicho Lake by Jack and Barb.