Do you know when is the best time to visit Nepal?

Everyone is saying The best season to visit Nepal is in the Autumn season of Nepal, between September to November.
During this time the climate will be dry and shiny clear sky creates a fantastic aura to visit all over Nepal for trekking or tours both.
Autumn is the best season to visit Nepal that doesn't mean Nepal is for Autumn season only.
Keep in mind that Nepal is for all seasons. Let me give you a brief info on why Nepal is for all seasons and what are the benefits of visiting Nepal in other seasons as well.
We all know that Nepal is especially famous for trekking in the Himalayas, but Nepal does not just regard the mountains.
There is a bunch of other attention-grabbing and thrilling stuff to do in Nepal. Ranging from Hot air ballooning to Paragliding in Pokhara, city sightseeing, Multi-day tours, Day hiking, Bungee Jumping there are a lot of things to do here.
It's unfair to mention just one or two seasons as the best time to visit Nepal.


In simple if you love and interested in doing mountain expeditions or adventure high altitude treks such as Everest three high passes trek, Manaslu circuit Larkya La passes trek, Thorong La Pass trek, then visit Nepal is Autumn otherwise feel free to visit Nepal at any seasons throughout the year.
Each season in Nepal will provide you the unique way to experience Nepal. For one-day city sightseeing to Multi-day tours, Short hikes to other adventure activities everything can be done anytime in Nepal, there will be no any risk.
Visiting Nepal in Spring (March-May)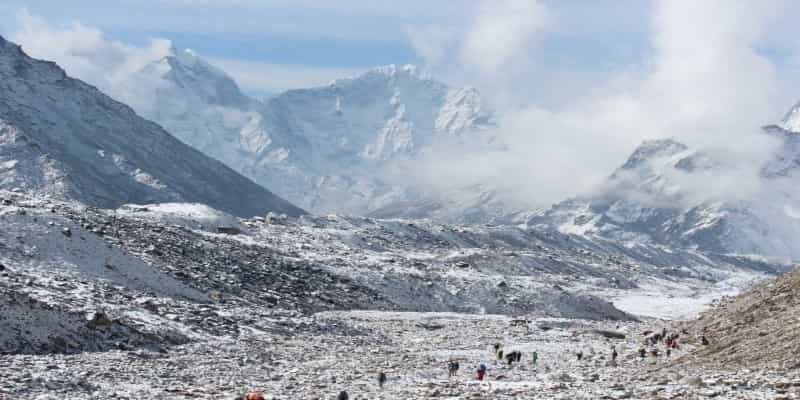 March being the bearer of spring in Nepal, as the temperature begins to get warmer and flowers are in beautiful blossom makes your visit meaningful.
Days are longer throughout March and April also, making them perfect for trekking, except that the temperature is still a bit frosty at night.
May is solitary of the warmest months and is attractive, but is also the tranquil before the storm: clouds embark on to emerge, and showers initiate to fall as a sign to the monsoon season.
No doubt spring is the second best season to visit Nepal for trekking after Autumn. If you aim to do long, more adventurous & challenging treks in Nepal but cant able to visit Nepal during Autumn, then Spring is the most recommended one.
For popular & best treks of Nepal such as Everest base camp trek, Annapurna base camp trek, its the perfect time to visit Nepal.


Doing a medium altitude trek in Spring makes your journey like doing an adventurous one. There will be less chance of heavily snowfall & avalanche in the mountains during spring. For Lower elevation treks, you are always welcome in Nepal.
The best part of Spring season is you can consider either doing treks or just sightseeing & tours only and also combining both.
Visiting Nepal in Summer (June-August)

During Nepal's Summer period – June, July, and August – it doesn't mean necessarily unbearable hot all day, but at times it does drizzle too, so paths are filthy and prevalent with leeches, the mountains are frequently thick with cloud, and the avalanche is typical and unsettling to travel plans.
It's not the most significant time for trekking thus, but because of the majority of rain falls at the hours of darkness, the mornings are magnificent and visiting the attractions is still feasible.
All through the scorching sun and additional rain falls at night than through the sunlight hours, the mornings are a lot brittle and gorgeous – if you would like to trek then, keep away from Nepal's challenging circuits and head to Manang, Jomsom, Upper Mustang or Dolpo, Himalayan areas that take a seat in shower shadows.
Also, you can consider doing just easy & short treks in Nepal such as Poon Hill trek, Sundarijal Chisapani Nagarkot trek or some other short treks from Pokhara or hiking around Kathmandu valley.
So what to do in the summer season in Nepal? My recommendation is to do a tour to famous cities of Nepal.
Visit Pokhara and go to either Ghandruk or Sarangkot for an excellent view of mountains & experience snowfall in Nepal.
Head over to Chitwan and experience the jungle safari of Nepal, at Sauraha. Go to Lumbini, visit the birthplace of lord buddha & experience peace in Nepal. Or you can also consider visiting Kanlinchowk for cable car ride and snowfall, Daman or Chandragiri.
Don't forget to be appropriately insured by travel insurances for trekking in Nepal while trekking in high altitudes during off trekking seasons in Nepal, which is Summer & Monsoon season.
Visiting Nepal in Autumn (September-November)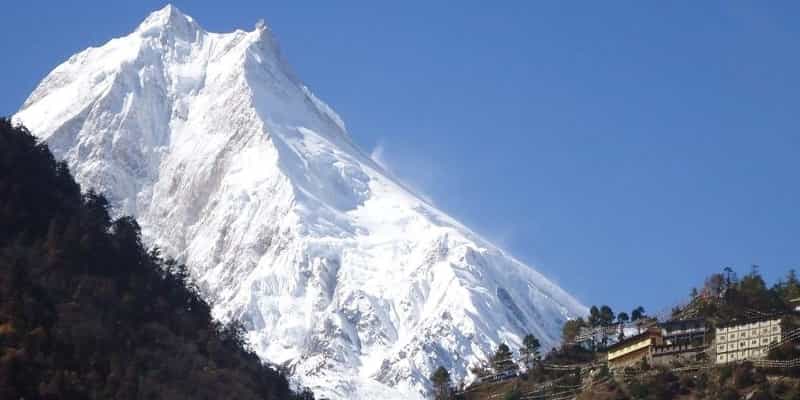 At the same time as the monsoon drives away in September, Nepal is a magnificent realm of vast clear skies, spanking new air and out of this world views.
October through to November is probably the most excellent time to take a vacation to Nepal as dried up days put together trekking more comfortable and put forward high-quality visibility.
The way the stock up scenery spring to existence for the continuation of autumn is impressive.
It is the perfect season when the weather calls you to come and visit Nepal.
There are many attractions in Nepal which provides tourists with sincere pleasure and makes them get lost in the beauty of nature.
The huge sun-kissed high rise mountains and the continuous flow of the waterfall, millions of small streams and hot water springs, the rivers flowing out of the hills, the widely spread lush green farmlands, the primitive pilgrim places steal the hearts of all.
Autumn is the season when you can plan to visit Nepal for all kinds of activities from challenging treks to higher expeditions.
The weather will be so favourable that you can do the high altitude treks such as Everest base camp trek, Annapurna base camp trek also so comfortable.
There will be a trekkers jam in a famous trekking trail of Nepal.
Not only in the mountains even airport of Nepal, Hotels, famous touristic places everywhere there will be a lot of peoples, so it's not the best time to visit Nepal for you if you hate crowd.
Visiting Nepal in Winter (December-February)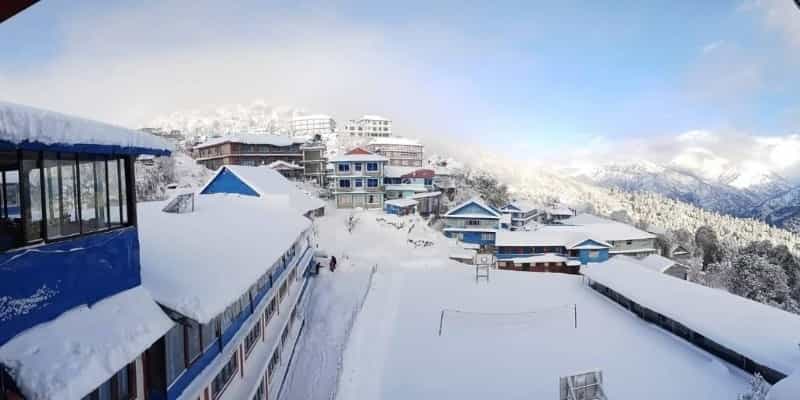 The famous Passes of Nepal such as Larkya La Pass, Thorong La pass were covered by snow and will be closed throughout the peak winter months, so its better if you choose side trips such as Tsum valley in Manaslu, Manang & Mustang in Annapurna circuit, Gokyo & Pikey peak in Everest, etc.
During your visit in Nepal in Winter, except trekking, you can consider doing the other exciting activity and adventure sports to take pleasure such as white water rafting, kayaking, paragliding in Sarangkot, bungee jumping in Bhote Koshi River, mountain biking in different spots, rock climbing, fishing in several of the 4000 rivers in Nepal and others.
Further, than these, you can experience nightlife in Thamel, pilgrimage travelling, take part in any attention-grabbing festival, and enjoy some single-handed hiking and a lot of others.
Since late December throughout January and into February, Nepal's climate is wintry but not intolerable, even though temperatures go down extensively at night, particularly in the mountains. January is the amount of citizens means fewer crowds.
During these seasons if you were planning a trip to Nepal, you probably get more discount on trip packages and there will be less crowd so that you can enjoy your holiday correctly.
Also during the off season, some local peoples can teach you some beautiful Nepali words & songs to entertain you because they won't be busy in their works.
Conclusion
Spring & Autumn seasons are the two famous & popular best seasons to visit Nepal. And especially Autumn is the best time to visit Nepal for those who want to plan a trip to Nepal at just best time only.
The weather during this period is warm, cosy, bright, shiny and pleasant providing the best climate in the year.
During Spring & Autumn in Nepal, days are not too hot and a cool breeze blows all over the places makes it so enjoyable for the tourists travelling from far off lands.
If you want to visit Nepal during the off seasons, consider doing only safe treks & lower elevation short treks or other activities such as tour, sightseeing, etc.