Resham Firiri is the traditional famous Nepali folk love song. It is the most famous old Nepali song among foreigners as well as equally favourite among Nepalese. However new Nepali songs such as Kutu Ma Kutu, Surke Thaili Khai is most viewed Nepali songs on youtube. But Resham Friri song has its different fan base. Today I am going to provide the Resham Firiri lyrics with English translations to understand the song & learn to sing.

If you are from Nepal, then I bet this is also one of your favourite songs during childhood. If you are not from Nepal but have been to Nepal at least once, then you would have heard this song maybe somewhere on a local bus or during trekking in Nepal.
During festivals or gathering, it's common for people to sing this song and entertain each other. In my opinion, Resham Firiri song is also one of the best song to introduce Nepali tradition and culture to foreigners through singing, performing dance and playing instrumental version.
Resham Firiri song is the most famous Nepali song among travellers visiting Nepal. It is because of when they visit remote places or mountainsides such as famous trekking trials Everest base camp trek, Annapurna base camp trek & many more they would listen to this song by their trekking crews or children they met on the way or even at tea houses during an overnight stay at mountains.
When I used to be a trekking guide, I would always teach this song to my guests during the trekking. Today I am going to teach you guys to sing this evergreen song by providing different versions of the song Resham Firiri Lyrics.
Resham Firiri Lyrics on a Roman Nepali
This lyrics for those who are not from Nepal and don't understand the Nepali language. Here is a JPEG file of the Resham Firiri Lyrics.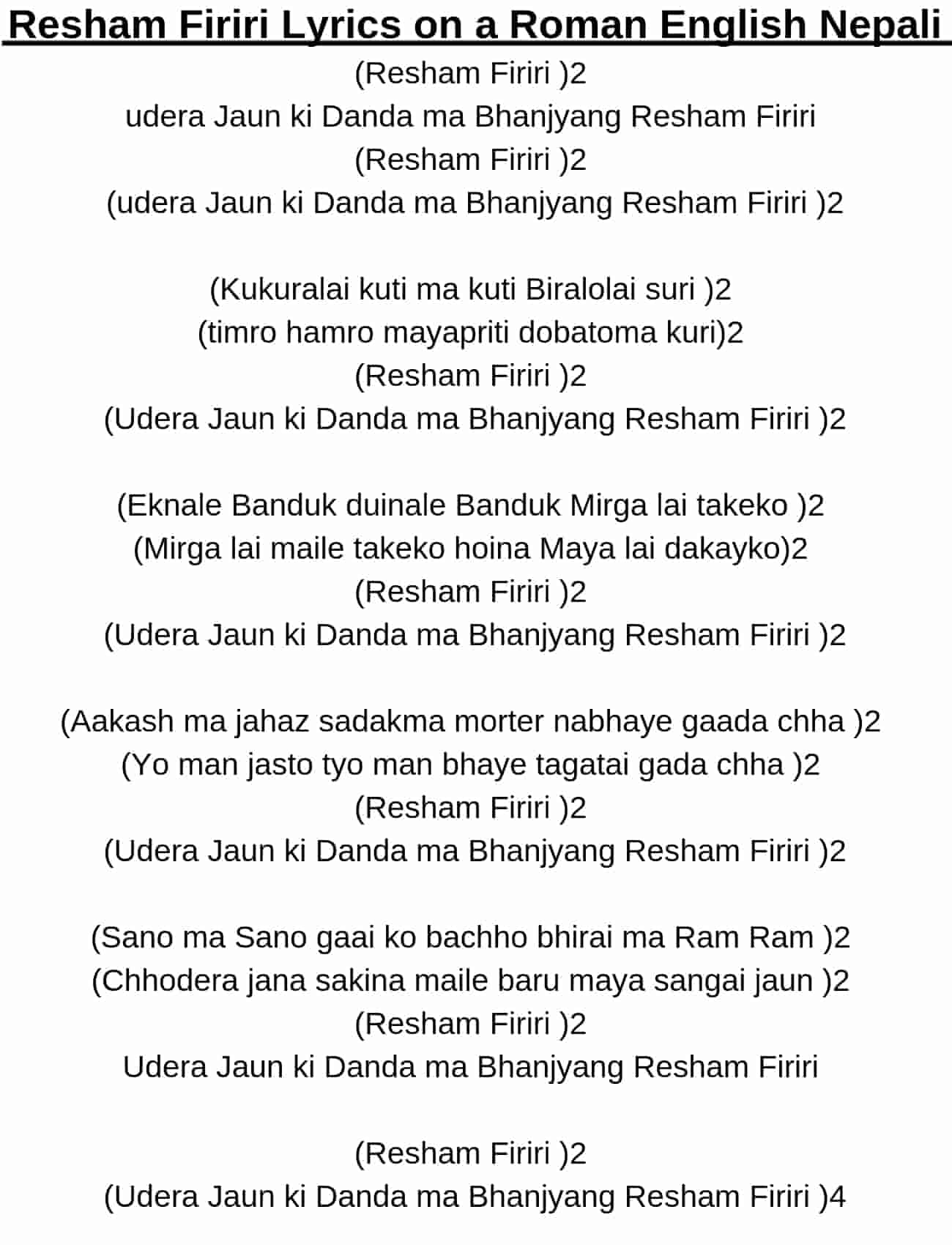 The reason for providing it on the image file is, rather than opening a blog post always while learning to sing this Resham Firiri song; you can download once and watch it and learn to sing whenever and wherever you want.


Resham Firiri Lyrics on the Nepali Language
The Nepali lyrics of the song is for Nepalese peoples to know the exact lyrics of the song. Because most of the time we will sing the song wrong at least one word of the song.

Resham Firiri Lyrics meaning in English
There will be some words in Nepali which won't match any exact word in English so that its difficult to translate the whole song in English as same as in Nepali. The English meaning of the song Resham Firiri Lyrics I am going to provide is not the accurate translation of the song but the best matching one that I found on the internet.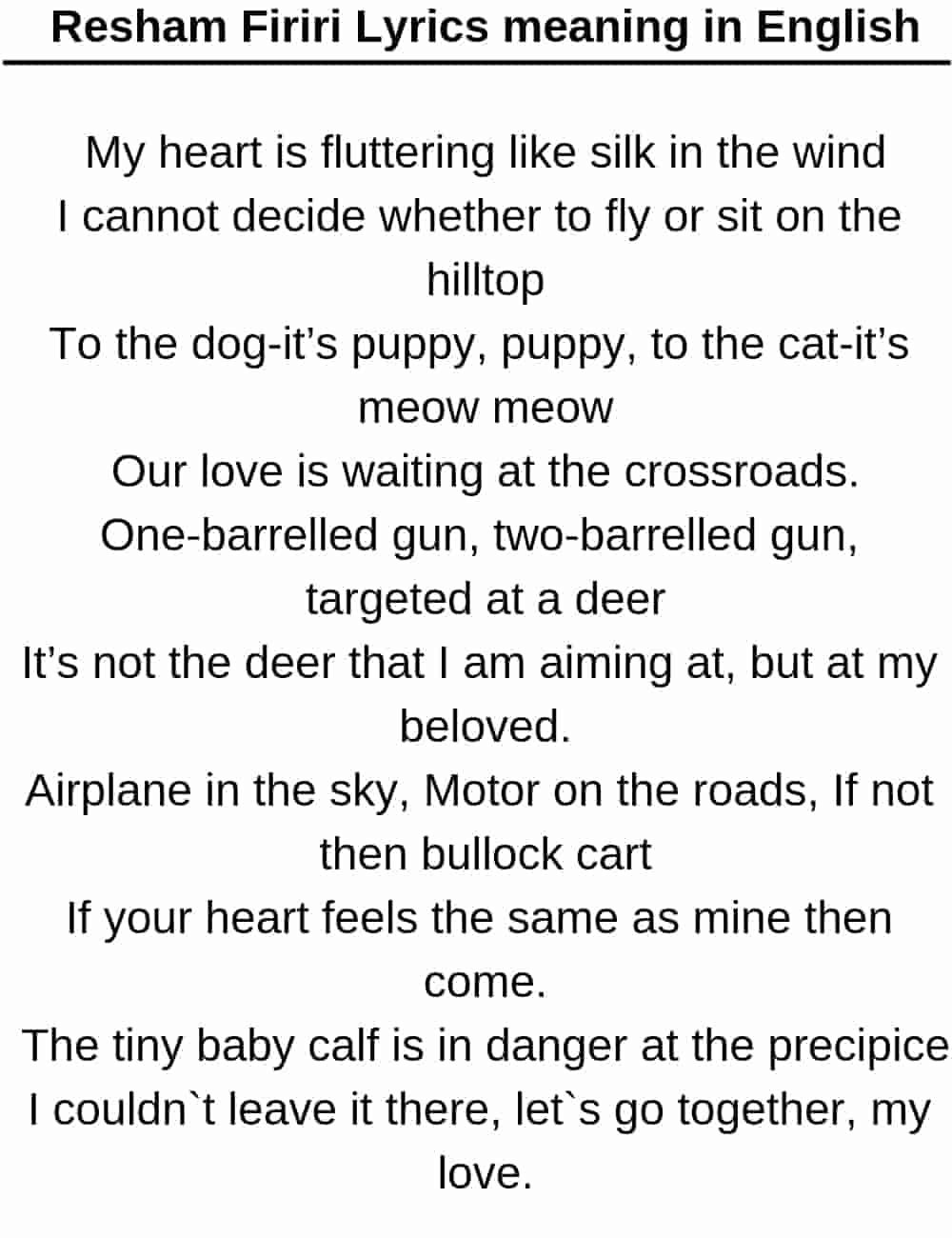 Trekking version of Resham Firiri song Lyrics
As I already said at the beginning of the post that Resham Firiri song is more famous on trekking trials. If you have been familiar with the guide, he/she will teach you these funny versions of the song Resham Firiri.
Trekking guide will give their best performance and service to you during the trek to make you happy and make your holiday in Nepal unforgettable. The song is also one of them. Let's see the funny trekking version of Resham Firiri song Lyrics.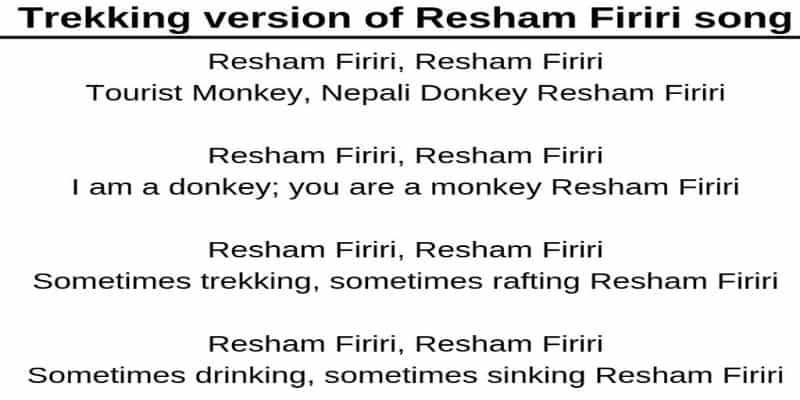 Kids version of Resham Firiri song Lyrics
Forget about trekking; if you are visiting Nepal for some volunteer works on a remote, undeveloped village of Nepal, then you can listen to this beautiful song from children too. They will sing this song while playing and even walking on the roads also.


However, they will try to sing this song as perfect, but because of their voice lisping the song will be funnier. Here is the child version of Resham Firiri song.

I bet most of kids ages between 3-5 who sing this song they can't go more than that because they will forget after that. And the most exciting part is when we request them to sing the next part of the song they will directly jump to the another that means they will sing from in between.
During my childhood, my brothers & sisters used to request me to sing this song in exchange for the chocolate, and I used to sing without even knowing the lyrics just for the chocolate. Haha, How innocent I was during those days. I always laugh when I remember those days.
Musical Instruments needed to sing this song
The original version of the Resham Firiri song released during the 70's had uses the musical instruments such as Sarangi, Madal, Basuri, etc. These are Nepali traditional musical instruments.
You can also sing the song using modern musical instruments such as guitars, keyboards, drums, etc. The cover song singers on Youtube had used these modern instruments to sing the song and make us fall in love with this song even more.
Some more pieces of information about the Resham Firiri song
Genre: Folk
Singer: Sunder Shrestha and Dwarika Lal Josh
Lyricist: Buddhi Pariyar
Total length: 5:00
Now, let's watch and hear the song from traditional to modern ones.
Here is the original song.
Here is remix version of the song by Fiddler's Green
Resham Firiri by Japanese Singer Aoi Sano on HUAWEI Namaste TV Show