Manaslu circuit trek in Nepal is one of the treks that remains its preservation. The location of this trek is in Gorkha district. If you want to keep out of the busy cities, this trek is a good option as there will be lesser trekkers. Our Manaslu circuit trek blog will give you complete guide & information about this trek including perfect itinerary & alternative options, the best time to visit, cost details, difficulty grade & several more.

You will be able to enjoy the nature of the place. This trek is open to foreigners in 1991, but only for a restricted number of people. The highest part of this trek will be the 'Larkya La Pass' which will be the most dramatic pass crossing the Himalayas. The trek was also affected by an earthquake in 2015, and the locals spent a lot of time repairing their homeland.
The Manaslu is a conservation area which is a sanctuary for the variety of birds and animals. You will be able to find Himalayan blue pine, diverse range of medicinal herbs and aromatic plants around the area. The best time to do Manaslu circuit trek will be in Autumn and Spring. The weather will be brighter, and you will be able to see the stunning view of the mountains without any obstruction.
The starting point of the Manaslu circuit trek is at Soti Khola. We will be passing through forest and trekking through rocky trails. Along the way, there will be flagstones and mani walls that look stunning. As we reach Samagaon, you will get a chance to visit this village of Buddhist culture. You will get to experience their lifestyle and learn about their culture. We can see the view of Mt. Manaslu and Naike Peak. We will bring you a great experience on this trek and have a memorable trip.
Manaslu Circuit Trek Highlights
Here are the highlights of the off beaten path trekking to Manaslu circuit in Nepal.
Get a chance to witness the beauty of the landscapes, forests, and vegetation in the Manaslu region.
Experience the culture of remote local peoples mainly Tibetan culture.
Cross the Larkya La Pass (5,106 m), the highest point during the trek.
See the stunning views of Mt. Manaslu, Himlung Himal, Nemjung, Annapurna II and many more.
Trekking Overview
| | |
| --- | --- |
| No. Of Days | 13 - 16 Days |
| Maximum Elevation | 5,106 m / 16,750 ft, Larkya La Pass |
| Trekking Difficulty | Hard |
| Remoteness | Remote (Thousands of trekkers per year) Not possible to do Individual |
| Pricing | High ($1,199 including food, accommodation during the trek) |
| Best Season | March to May and October to November. |
| Accommodation Type | Teahouses & Lodges |
| Required Permits | ACAP, MCAP, Restricted Area Permit |
Manaslu Circuit Trek Itinerary
The Manaslu Circuit Trekking itinerary could vary depending upon the chosen route and the places you would like to explore like including Tsum Valley and rest days in between. The Manaslu circuit trek can be as short as ten days which will cover just a Lower Manaslu and could be extended to 19 days with a fantastic side trip to the remote village of Tsum Valley. At least one rest days is necessary to acclimatize. We recommend two places for rest days in Sama Gaon and Samdo village. A rest day doesn't mean complete rest; you can make some side trips on the rest days too. For example, a trip to Manaslu Base Camp and Punggyen Gompa are possible from Samagaon. Likewise, a day hike towards the Tibetan border from Samdo. Here is the 13 days Manaslu circuit trek itinerary we recommend to all trekkers.


| DAYS | ITINERARY | ALTITUDE | TIME |
| --- | --- | --- | --- |
| Day 01 | Drive from Kathmandu to Soti Khola | 720 m | 10 hrs |
| Day 02 | Soti Khola to Machha Khola | 950 m | 6 hrs |
| Day 03 | Machha Khola to Jagat | 1,370 m | 7 hrs |
| Day 04 | Jagat to Deng | 1,860 m | 7 hrs |
| Day 05 | Deng to Namrung | 2,630 m | 7 hrs |
| Day 06 | Namrung to Samagaon | 3,520 m | 6 hrs |
| Day 07 | Day trip to Birendra Lake/ MBC | 3,520 m | 5 hrs |
| Day 08 | Samagaon to Samdo | 3,870 m | 4 hrs |
| Day 09 | Samdo to Dharmasala/Larkya Phedi | 4,460 m | 4 hrs |
| Day 10 | Dharmasala to Bimtang Via Larkya Pass | 5,160 m | 8 hrs |
| Day 11 | Bimtang to Tilije | 2,300 m | 6 hrs |
| Day 12 | Tilije to Tal | 1,670 m | 4 hrs |
| Day 13 | Drive back to Kathmandu | 1,400 m | 9 hrs |
Detailed Itinerary
Day 01: Drive from Kathmandu to Soti Khola
Today, The starting day of our Manaslu circuit trek, we will take an early drive from local bus park of Kathmandu to Sotikhola. The ride will be beautiful. The road from Kathmandu to Dhading Besi is an excellent road and after that drive from Dhading Besi to Sotikhola will be on the rough road. Along the way, we will cross a beautiful village called Arughat. It will take 7-8 hours to reach Sotikhola. During the drive, we will enjoy the stunning views of Nepalese countryside villages along with mountain sceneries. Overnight at Teahouse.
Day 02: Soti Khola to Machha Khola
After breakfast, we begin the trek. The trail goes along with Budhigandaki river. We can enjoy the views of waterfalls during today's hike. After 3 hours of walk, we will stay Lapubesi a Gurung village for lunch, and the trek continues towards the narrow suspension bridges. Again after 3 hours of the trek from Lapubesi, we will reach Machhakhola. Overnight at Teahouse.
Day 03: Machha Khola to Jagat
Today we trek begins with the trial that drops down. Along the way, we will walk through the lush tropical vegetation and pass a small waterfall. From where we can see the fantastic view of Ganesh Himal. We will enjoy our lunch at Doban. After that, we will again start trekking. After crossing some few small wooden bridges and some suspension bridges over the Budi Gandaki, we will reach Jagat. On the way, we will pass the beautiful village of Yaru Bagar. It will take 7 hours to reach Jagat from Machha Khola. Overnight at Tea House.
Day 04: Jagat to Deng
After the breakfast today we will begin our trek. Today's trail climbs gently high above the river. Along the way, we will cross the beautiful village with stupas of Buddhist culture named Sirdibas. After we reach the Philim, there were two ways to enter Mansalu one along with Tsum valley, and another straight continues to Manaslu. On the way, we cross the big metal bridges some beautiful tropical forests dominated by bamboos after some uphill trekking brings us to Deng. Overnight at Teahouse.


Day 05: Deng to Namrung
Today we walk through the traditional Buddhist and Tibetan villages. On the way, we will cross some wooden and many suspension bridges. Also, we can see the beautiful view of Sringi Himal from the village viewpoint of Prok. It will take 7 hours to reach Namrung from Deng. Overnight at Tea House.
Day 06: Namrung to Samagaon
Namrung village is also an excellent viewpoint of Ganesh Himal. Today we climb steadily and pass through the forests. Before reaching the Sama, we will cross the beautiful villages Sho, Lho, and Shyala. From Shyala village we can see the high mountains like Him Chuli, Ngadi Chuli and view of Manaslu. Today we will stay overnight at Samagaon.
Day 07: Day trip to Birendra Lake/ MBC
We stay at Samagaon for rest and acclimatization. Near the Sama village, there is an old gompa named Pungyen gompa. We will explore and visit here today and return to our accommodation later. Overnight at Samagaon.
Day 08: Samagaon to Samdo
Today we have a comfortable day. We will gradually trek uphill all the way to Samdo along the deserted trials of the windy valley. Today trek is for just 3 to 4 hours. We can see the stunning views of Mt. Manaslu, Nagdu Chuli, Manaslu glacier, Manaslu ice fall and several other majestic peaks from Samdo. Overnight at Tea house in Samdo.
Day 09: Samdo to Dharmasala/Larkya Phedi
We continue our walk today towards uphill by crossing the wooden bridges over the Budi Gandaki river. Highest point we will reach today is 4460m. The short walk of 4/5 hours also gives us time for acclimatization. Overnight at Dharmasala.
Day 10: Dharmasala to Bimtang Via Larkya Pass
There are a lot of reasons to be excited today. We will be reaching the highest altitude of our entire Manaslu circuit trek today. From Larkya Phedi we will do a short hike till Larkya glacier. The areas around the glacier offer beautiful views of Larkya peak. As we trek further the pass will keep on getting steeper until we reach Larkya la pass at an altitude of 5106m. From where mountain peaks such as Annapurna ii, Himlung Himal, Cheo Himal can be seen. We will take time and enjoy the view from Larkya la pass then we will reach down to Bimthang where we will spend the night at a tea house.
Day 11: Bimtang to Tilije
After the breakfast, we will descend further down through beautiful pine forests as well as rhododendron and bamboo. We will walk for 5 to 6 hours today until we reach Tilje. Overnight at guesthouse.
Day 12: Tilije to Tal
Today is the second last day of the trek. After crossing the bridge over Dudh Khola, we will continue to trek via Dharapani and Karte until we reach Tal. Overnight at Tal.
Day 13: Drive back to Kathmandu
Today is the last day of our trek. We will take a drive from Tal to Kathmandu. It will take approx 8 hours to reach Kathmandu from Tal. Overnight at the hotel.
Manaslu Circuit Trek Map
Manaslu circuit trek map will help you to plan your trip more carefully. Here is the sketch map with daily itinerary during Manaslu circuit trekking in Nepal.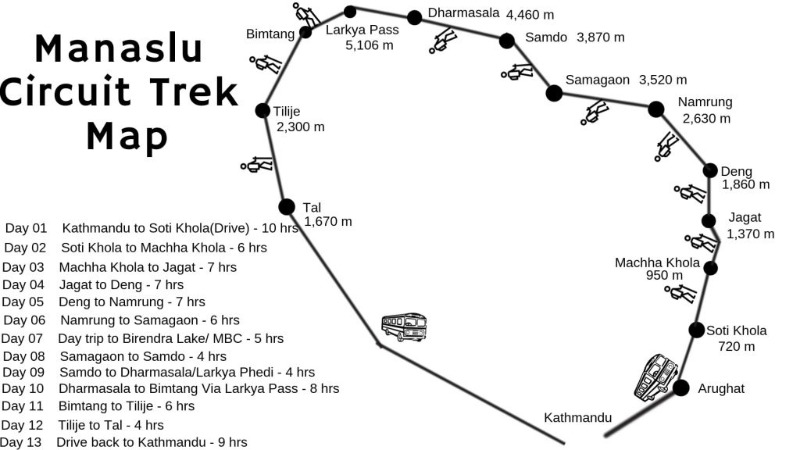 However, it is not the exact map of the trial, but it is beneficial to plan your trip. If you want the original route map, you can buy this kind of map(below image) in Nepal which will cost 150-200 Npr. Also, it can be purchased online from Amazon too.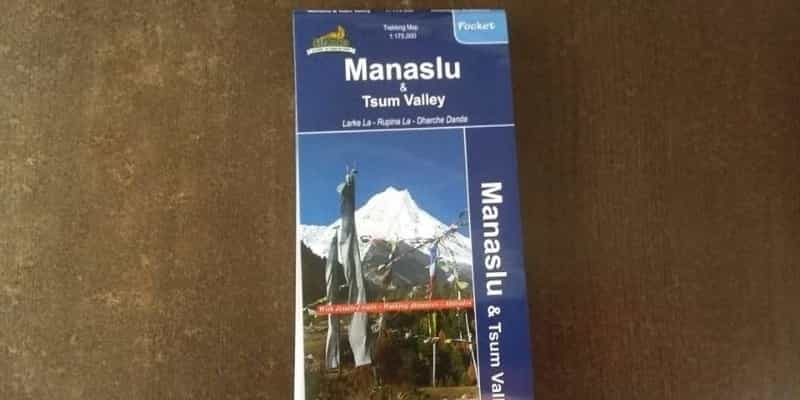 Manaslu circuit trek cost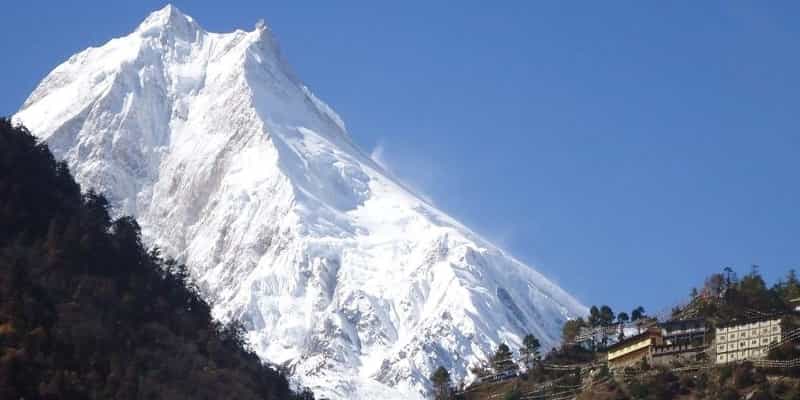 The overall Manaslu circuit trek would cost $1,199 per person for a small group of 01-03 pax and can be discounted for large groups which will include necessary permits and transportations, guide, porter, foods & accommodations during the trek if you booked your full board package trip from local trekking company in Nepal.
Following are the Manaslu Circuit Trek Costs
1. Transportation Expenses:
The trek begins from Sotikhola. To reach Sotikhola, you have to go through to the off-beat roads either by taking a local bus or hire a private jeep. Private jeeps are preferable because local buses will be almost packed during trek season. The local bus would cost around USD 10 per person. Automobiles will cost approx. 150 to 200 USD each way. The same case applies at the end of the trek returning from Tal or Besisahar to Kathmandu.
2. Manaslu circuit Trekking permits:
Necessary permits for Manaslu circuit trekking in Nepal is MCAP permit, ACAP permit & Restricted area permit. Manaslu Restricted Permit costs depend on the month and number of days you will be in this region.
from September to November
70 USD per week + 10 USD per extra day after that
For rest months
50 USD per week + 7 USD per extra day after that
Average total no. of trekking days is 13. For this, seven days restricted area trek permit will be enough for you if you go with the itinerary that we mentioned above.
For MCAP & ACAP, NPR 3000(around $30) a piece per person is required.
If you choose TSUM Valley as a side trip for your trek, which is Tsum valley Manaslu circuit trek, USD 35 per week per person is charged.
3. The cost of Guide and Porter:
You are not allowed to trek individual in Manaslu at least one authorized person from local trekking company is required for the trek. So, if you hire a professional guide, on average USD 20 to 25 per day is charged which includes the guide's food, accommodation, and insurance. But, if you are thinking of taking only the porter to reduce your cost. Roughly, the charge is 15 to 20 a day including food, insurance, and accommodation.
4. The cost of accommodation:
Nowadays, Manaslu trek is known as tea- house trek. That means camping is not required unless you go off the beaten tracks. The cost for one twin sharing room is roughly USD 6 to USD 8 per night. If you want one room with two twin beds so you could sleep on your own, please be reminded that you must pay for the total cost of the room, meaning the price for two people.
5. The cost of food and drinks:
In Manaslu, all things are being transported directly by man and mule because of its remoteness and no transportation service. Roughly 5 USD per meal, i.e., USD 15 to 20 on a daily basis. The cost may vary depending on your no. of meals and your beverages. Manaslu is comparatively the cost of breakfast is quite cheaper than that of other trails. The price of drinks is similar to other regions. A cup of tea and coffee costs USD 1.5- 3 and USD 2 – 4 respectively. Similarly, the cost of beer is USD 3 – 6 whereas a bottle of water/soda will cost you USD 0.5 – 3.
6. Other miscellaneous costs:
Miscellaneous cost includes for other things like charging your gadgets (mobile phone, camera, etc.), or for bucket shower, heated by gas or firewood, etc. As these trails are tourist areas, the cost cannot be expected to be cheap.
And your porter and guide expect tips from you as gratitude. These things depend on your willingness and experience and also their services during the trek.
Manaslu Circuit Trek Without Guide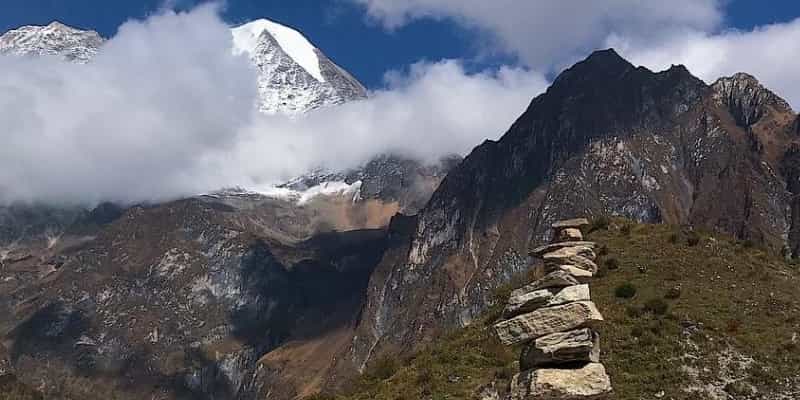 Most of the people will ask Manaslu circuit trek in Nepal can be possible without a guide or not. Yes, Manaslu circuit trek without a guide is possible, but that doesn't mean you can trek in Manaslu completely independently like Everest base camp trek & Annapurna base camp trek. To trek in Manaslu restricted area, you have to hire at least one staff from local trekking agency in Nepal either guide or porter or a porter cum guide.
As you already know you can't make Manaslu restricted area permit yourself or without hiring a local agency. It's better to trek in Manaslu with the guide and porter both because guide have more knowledge about the area with well English speaking expertise and they can describe you each and everything about Manaslu, locals peoples, their culture belief traditions festivals, history of local sightseeing gompas, etc. As well as porter will help you to carry your luggage to make your trip comfortable. But if you want to reduce the trip cost, then you can consider doing with porter only too. In conclusion, Manaslu circuit trek without guide automatically means Manaslu trek with porter.
Manaslu Circuit Trek Difficulty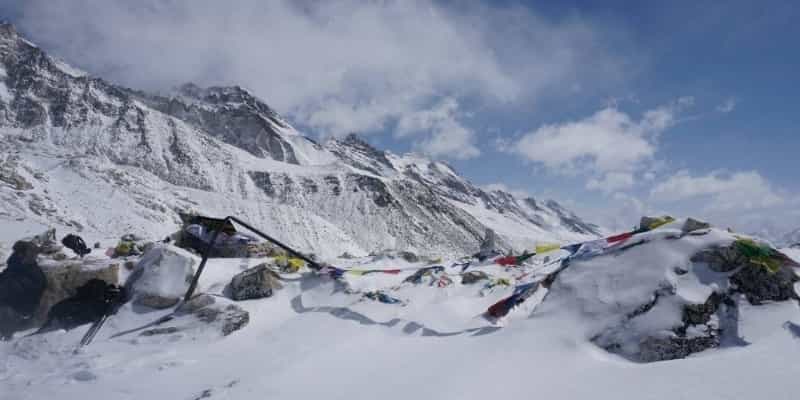 Manaslu circuit trek in Nepal is an entirely remote trekking route of off-beaten trails compared to other popular treks like Annapurna circuit trek. While talking about trek difficulty, Trekking to Manaslu circuit is a strenuous trek with no difficulty. Follow a proper itinerary with rest days and always listen to your guide to complete the trek without feeling any difficulty. Manaslu circuit trek is a great choice to those who are looking for an adventurous trip towards the remote region.
Manaslu circuit trek takes you from the lowest Soti Khola (710m) to the highest point at Larkya La Pass (5,160m). The Manaslu circuit trek is about 177 km in the distance. The most challenging part of the trek is crossing the Larkya La Pass at an altitude of 5,160m.
The rocky trails and off beaten paths can be a problem for those who are physically unfit. Thus, it is essential that you take the necessary physical training before the trek. Be prepared to walk for approx 6 to 7 hours daily. Autumn and spring seasons are considered as the best season to trek in Nepal as compared to other seasons in Nepal. Hence, planning your trek during Autumn and Spring season can reduce the trek difficulty caused by weather.
One of the significant difficulty during Manaslu trek is your ability to adjust to high altitude. Rest days are very important to acclimatize while trekking at higher altitude. So always chose an itinerary having at least two rest days while trekking in Manaslu circuit in Nepal.
In conclusion, With a moderate level of fitness and some trek preparation before, and following an excellent proper trekking itinerary with rest days in between you can easily complete this trek without any hassle.