Pokhara, a most loved adventure city by foreigners visiting Nepal, is not only for long treks in Annapurna mountains. There are so many best day hikes from Pokhara city especially for those having so less holiday in Pokhara but interested in hiking around to encounter the real beauty of Pokhara city and Annapurna region like a pro.

Day hikings from Pokhara city offer you the beautiful view of lake city, Pokhara. And a panoramic view of high mountains like Annapurna, Dhaulagiri, Machhapuchre, Manaslu, Lamjung Himal, and many more.
There are many options for single day hikes from Pokhara which includes some hours of a short drive to reach the starting point. And then start hiking for 4/5 hours or more on some. And then after having lunch and experiencing the beautiful sunset view of mountains and city from viewpoints. Again drive back to Pokhara in the evening.
A day hikes from Pokhara also allows you to experience trekking in Nepal especially trek in Annapurna within a single day. Furthermore hiking around Pokhara provides rich insight into the local community, their history, culture, and religion. With terraced farming, rhododendron forest walks with waterfalls and picturesque mountain views.
Most of the Pokhara hiking provides us the beautiful view of the Pokhara city including Phewa lake from the hilltop of Himalayan viewpoints. The reflection of the mountain on the lakes of Pokhara are worth remembering.
The day hikes from Pokhara are to the nearby hills which offer countryside experience, beautiful lakes and enjoy the natural beauty with amicable local people living in the starting point of the long day treks of Annapurna. Here are the 8 best day hikes from Pokhara.
1. Naudanda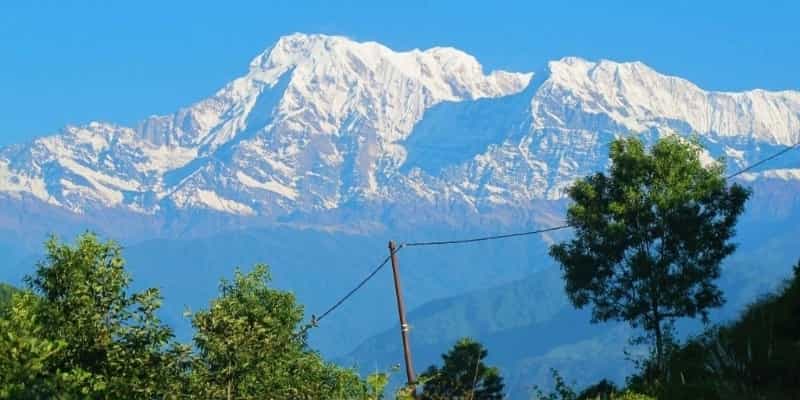 Pokhara is enclosed by flourishing hills and traditional villages offering remarkable views of the various Himalayas of Annapurna region. Sarangkot & Naudanda, located at an elevation of around  1,600 m, is one of the most popular Himalayan viewpoints near Pokhara. This is also a popular hiking destination can be done from Pokhara valley.


Hiking to Naudanda offers an excellent opportunity to discover the rural life of Nepal while enjoying fantastic mountain views of the Annapurna range including Annapurna, Fishtail(Machhapuchchhre) & Dhaulagiri, as well as Phewa lakes, entire Pokhara valley, Paragliding, and hilly farming terrace land.
2. World Peace Pagoda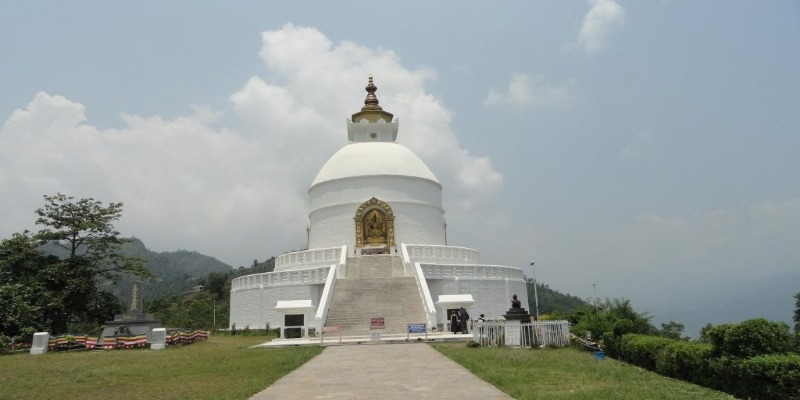 A short hike to World Peace Pagoda is to reach the impressive white pagoda, built by Japanese monks, lies atop a hill facing the Pokhara city. From where the fresh Phewa Lake, Annapurna Massif, the white Machhapuchre Peak, Hiunchuli, encompassing green hills, and Pretty cultivation villages can be seen.
The actual hike will start from the opposite bank of Phewa lake. The path goes through a dense forest stuffed with wildflowers and pine trees. It takes an hour and a half to reach the top. If you can further walk 1/2 hours, it would be better to go the Naudanda hill also, another beautiful viewpoint near Pokhara and close to Peace Pagoda.
3. Australian Camp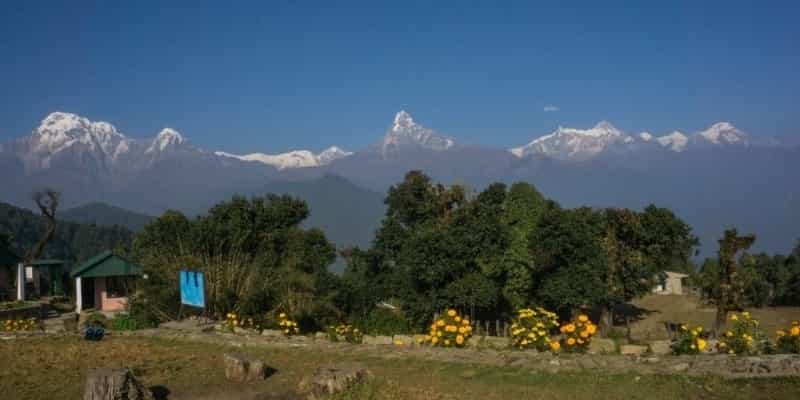 Australian Camp is a beautiful well-known settlement for its sunrise, and sunset view of Annapurna range, and Machhapuchhre. Hiking to Australian Camp is one of the 1-day treks in Nepal around Pokhara with beautiful mountain views.
Majority of this hiking trail is walking through the green forest. During this hike, you can see the impressive view of Annapurna and Dhaulagiri range, Machhapuchhre,  green hills, and the stunning view of Pokhara valley. Australian Camp, Sarangkot, and Dhampus village are the major attraction of this hiking.
4. Ghandruk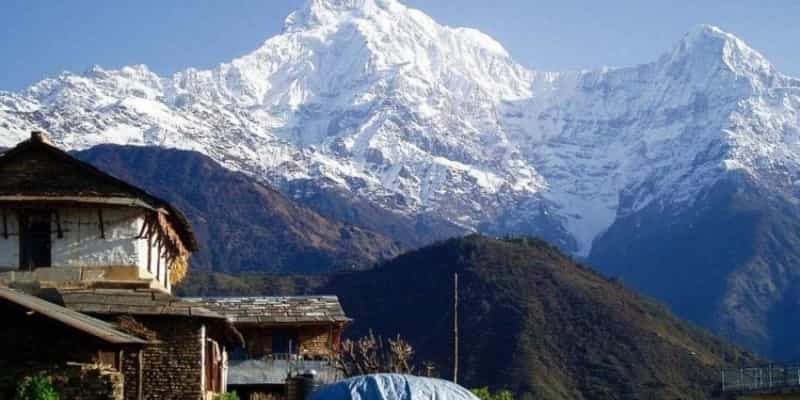 Hiking to Ghandruk village is a beautiful short trek you can experience in the Annapurna region. The trek is smooth and much passionate walking through the charming towns and forest. The local peoples will offer you to wear their traditional dress and take photographs for memory.
The beautiful part and also the main attraction of this hike is to reach & explore the Ghandruk Village. Ghandruk is a Gurung community. The highest point of this trek is around 1950 meters. This small day hike from Pokhara offers you majestic views of Annapurna and Dhaulagiri range.
5. Begnaskot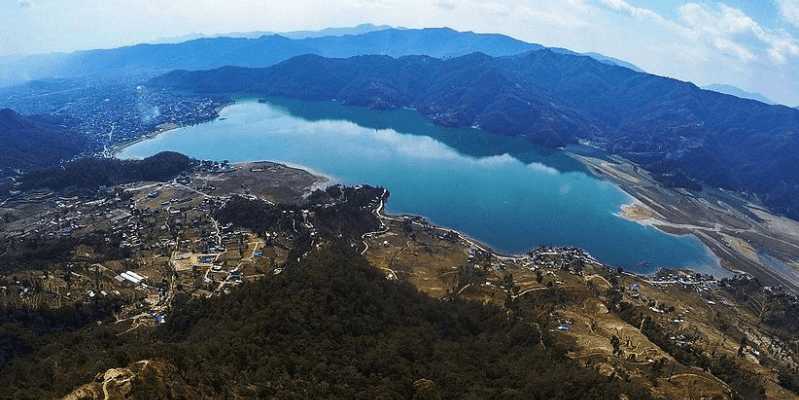 Hiking to Begnaskot is an average of 4 hrs hiking trail passing the beautiful Begnas lake. From Begnas Lake its around of around 2 hours climb up to the Begnaskot. The place is located at an elevation of about 1,100 meters. On the way, you can encounter lots of Nepali farmers and fishers.
On top of Begnaskot hill, there is a Begnaskot temple. From the top of Begnaskot viewpoint, you will be able to observe the magnificent view of lakes Begnas and Rupa, Beautiful Annapurna and Dhaulagiri Himalayan ranges; forest area covered the entire hill and beautiful traditional Nepali villages.
6. Kahun Danda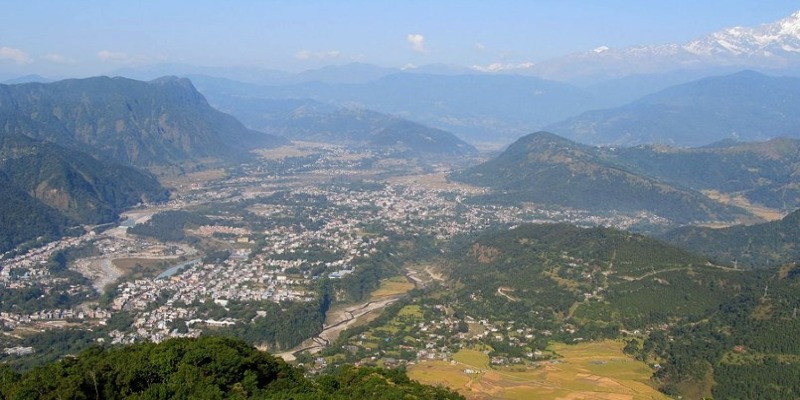 The leading destination, Kahun Danda, is located in the North-East of Pokhara city at around 1,445 m. The hike is another best day hikes from Pokhara, enchanting the mountains and is only about two and a half hours of the total walk.
You will enjoy a picturesque view of the Annapurna scale and the wide Pokhara valley and nearby hills from Kahun Danda. The trail passes through the newly built bridge at Seti Powerhouse, army barracks, local villages rich in cultural diversity, hills covered with rhododendron flower and another tress.
7. Kalikasthan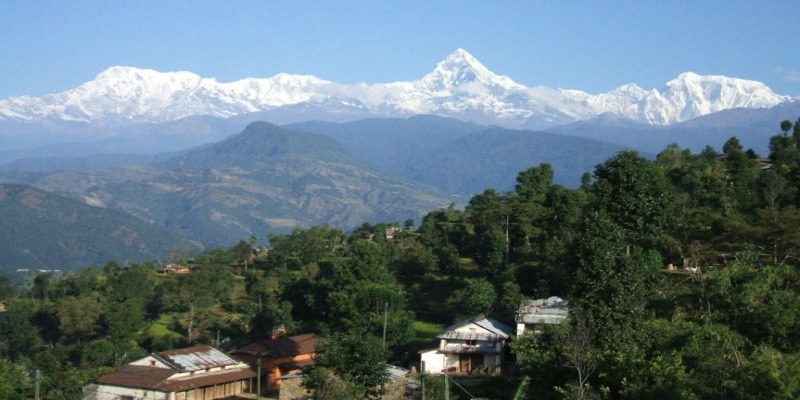 Kalikasthan is a beautiful hilltop village located at 1,370 meters, one of the beautiful remote village near Pokhara valley. The hike will provide excellent mountain views, including Macchapuchhre, Annapurna and Pokhara city.
During the hike, you can explore local traditional Brahmin and Chettri villages. On the way, we will cross the beautiful landscapes, towns and picture postcard scenery of green hills. Kalikasthan is also can be reachable by the drive, and you can start a hike to another viewpoint Thulakot instead of just reaching there.
8. Chapakot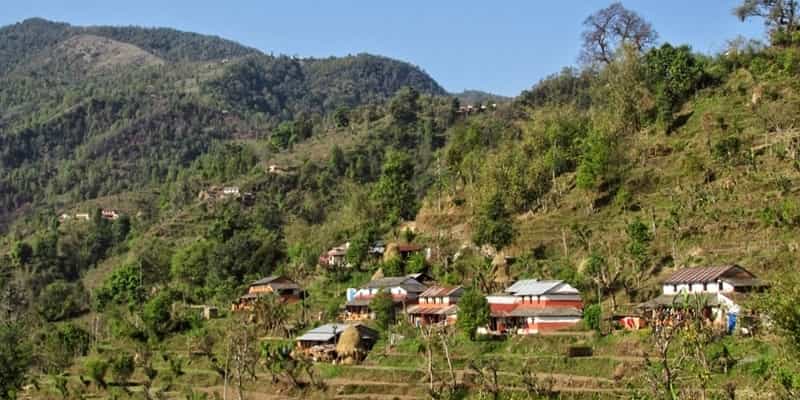 Hike to Chapakot from Pokhara is one of the ideal, exciting, and easy tours for all sorts of travelers. The hike will start from Klangbang after a short drive. From the road, we go steeply up to the hill, and we will be walking through the various local traditional villages and hills.
We can see the view of Mt. Manaslu, Annapurna, and Dhaulagiri range with entire Pokhara city and Phewa lake during the trek. The place is being much closer from developed Pokhara city, but the lifestyle and local living style are still traditional and different than others.