We hope that our Mardi Himal trek blog will give you everything you need to know about trekking in Mardi Himal.

Mardi trek is a newly opened route & hidden gem, situated just east of one of the most popular treks of Nepal, the Annapurna Base Camp trek.
This trek offers an imaging view of Manaslu, Dhaulagiri, Machhapuchre and Annapurna ranges. Lwang, Siding village, and Mardi Himal base camp are the major attraction of this trek.
Trek to Mardi Himal is one of the short, smooth & spectacular trips in Annapurna Region. Trekking to Mardi Himal is the best destination to avoid the crowd.
Trekking to Mardi Himal is also considered as one of the best short treks in Nepal. The trek goes through stone-built villages and beautiful rhododendron forests blooming in many different colors.
During the trekking, we can explore the dramatic panoramas of Mardi Himal, Mt. Fishtail, Annapurna South & Hiuchuli peaks.
The maximum altitude we will trek during Mardi Himal Trek is Mardi Himal Base Camp at an elevation of 4,500m/14,763ft from where the entire Annapurna Mountain region can be seen.
Mardi Himal Trek Itinerary
Day 01: Drive Kathmandu to Pokhara.


Day 02: Drive to Kade & Trek to Forest Camp.
Day 03: Trek to High Camp.
Day 04: Trek to Viewpoint & Rest at high / Low Camp.
Day 05: Trek to Siding / Lumre.
Day 06: Drive to Pokhara
Day 07: Drive back to Kathmandu
Mardi Himal Trek Route Map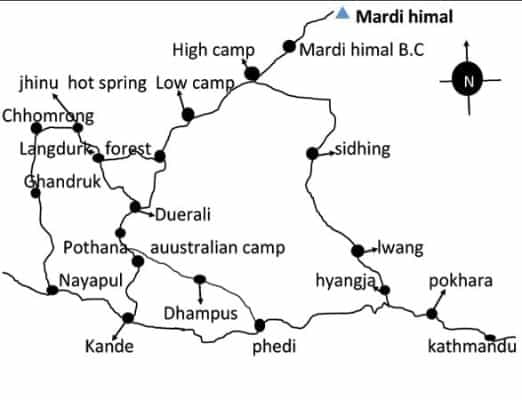 © Nepal Mountain Guide Team
Mardi Himal Trek Cost
When you book with Nepalese Trekking Agency, The overall cost for Mardi Himal trek will be $400-$500. Price will always include TIMS & Permit, Food, Accommodation, Guide, Transport. Rate also depends upon which trekking agency you will choose to plan your trip.


If you choose to trek independently, the trek cost will be less as you don't need to pay for a guide.
Cost For Nepali
Overall Mardi Himal trek cost for Nepalese will be not more than NPR 17,000 per person. Nepalese don't need to buy any Permits for the trek. As the trip cost always depends upon How many people are there in a group as well as how spending you are. More people in a group will minimize the transportation & leaving cost. You can book your trip to Mardi Himal trek with Image Tours & Travels.
Best Time
Nepal is for all season; you can do trekking in Nepal on all seasons throughout the year. But among all these seasons in Nepal, March to May & September to December is considered as the best time to do this trek.
Can we do Mardi Himal Trek without guide?
Yes, you can do Mardi Himal trek without a guide. It's not a restricted are trek like Upper Mustang trekking.
The highest altitude of the trek is also just 4,500m. During the trekking in Mardi Himal trial, you can see and meet the most number of individual trekkers then trekkers trekking with a guide.
Its well maintained path so that there will be no difficulty to find the routes in case you want to confirm, you can ask with the local people and also follow another trekkers on the way.
Necessary Documents
To Do Mardi Himal Trek you will need the Annapurna Conservation Area Project (ACAP) permit and TIMS Card (Tourism Information Management System).
Note: If you are from Nepal, Trekking Permits are not necessary for Nepalese.
Food & Accommodation
The food during Mardi Himal trekking is typical Nepalese trekking food such as Dal Bhat, pasta, pancakes, chop suey, etc. The price also won't be a high range compared to other trekking routes.
During Trekking to Mardi Himal, accommodation will be same as other trekking trails of Nepal. There are few Tea houses (Local Lodges) on the way.
Mardi Himal Trek Hotels
Here is bonus tip for all the readers of our Mardi Himal trek blog. During the main trekking seasons(Sep-Nov & March-May), you might have a problem to get accommodation. So that book your hotels in advance.
Here are complete details of some hotels of High camp, Low camp, Forest camp, Kalimati & Lwang villages along with phone numbers. The information is provided by Mardi Himal tourism management & merchant committee.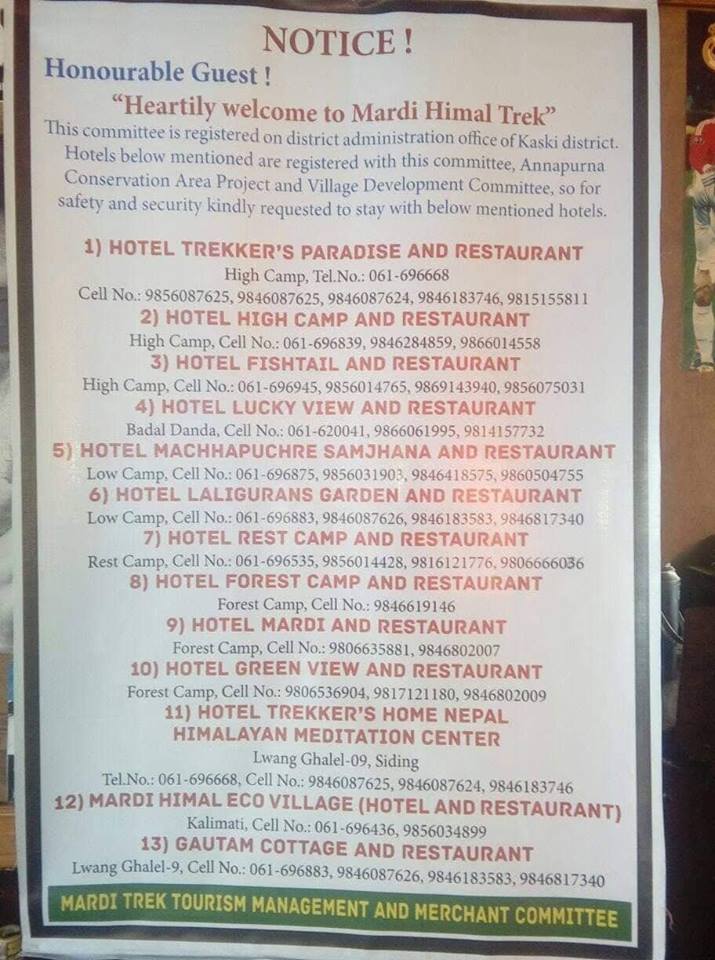 If you need any more information about Mardi Himal trekking, then you can contact us directly. We will keep updating this Mardi Himal trek blog, especially with the aim of helping individual trekkers who are trekking in the area without any trekking guide.
Wonderful Drone footage of Mardi Himal by Nepal360.