Kanchenjunga is one of the world highest mountains with an elevation of 8586m/28,169ft. Kanchenjunga lies on the far eastern side of Nepal, near the Sikkim(India) border, a tiny Himalayan state in the north-eastern part of India. It ranks in the third world's highest mountain, and also Kanchenjunga is the second highest mountain in Nepal. You will need Special restricted area permit to trek in Kanchenjunga region. However, Solo hiking is not allowed here; You must hire a local guide and plan your trip with a local trekking company in Nepal to obtain permits.
Mt Kanchenjunga has another named called Five Treasures of Snows derived from the Tibetan word as it contains five high peaks. The locals believe that the five treasures are Gold, Silver, Precious Stones, Grain, and Holy Scriptures, referring to the five individual peaks of the Kangchendzonga Himal range. Furthermore, If you are in love with nature, you will fall in love with Kanchenjunga trek.
As Kanchenjunga is quite remote, it will be an adventurous trek that will keep you out from crowded areas, meet just a few other trekkers on the way. We only cover trekking in Nepal on during this trek. The good news is, You can now trek to Kanchenjunga on a tea-house basis by staying at local accommodations. The trek around Kanchenjunga can be done entirely as a basic lodge/tea-house trek in September-October-November and March-April-May.
In the Kanchenjunga trek, You will be able to trek deep into remote mountain area, passing through jungles and villages. On the way, you can meet the locals like Limbu and Rai peoples. You can enjoy their culture and their festivals. On the way, you will be able to see various types of plants like orchid, lilies. If you are looking forward to seeing some wildlife, you may have the chance to see the snow leopard, Himalayan black bear, musk deer, and red panda.  The area is rich in wildlife with iconic species such as the snow leopard, Tibetan wolf and red panda at large on the high mountain slopes, pine forests and bamboo jungle. You can trek in the spring season to enjoy the visual feast of over 40 species of rhododendron in bloom, including Nepal's national flower, the scarlet Lali Gurans.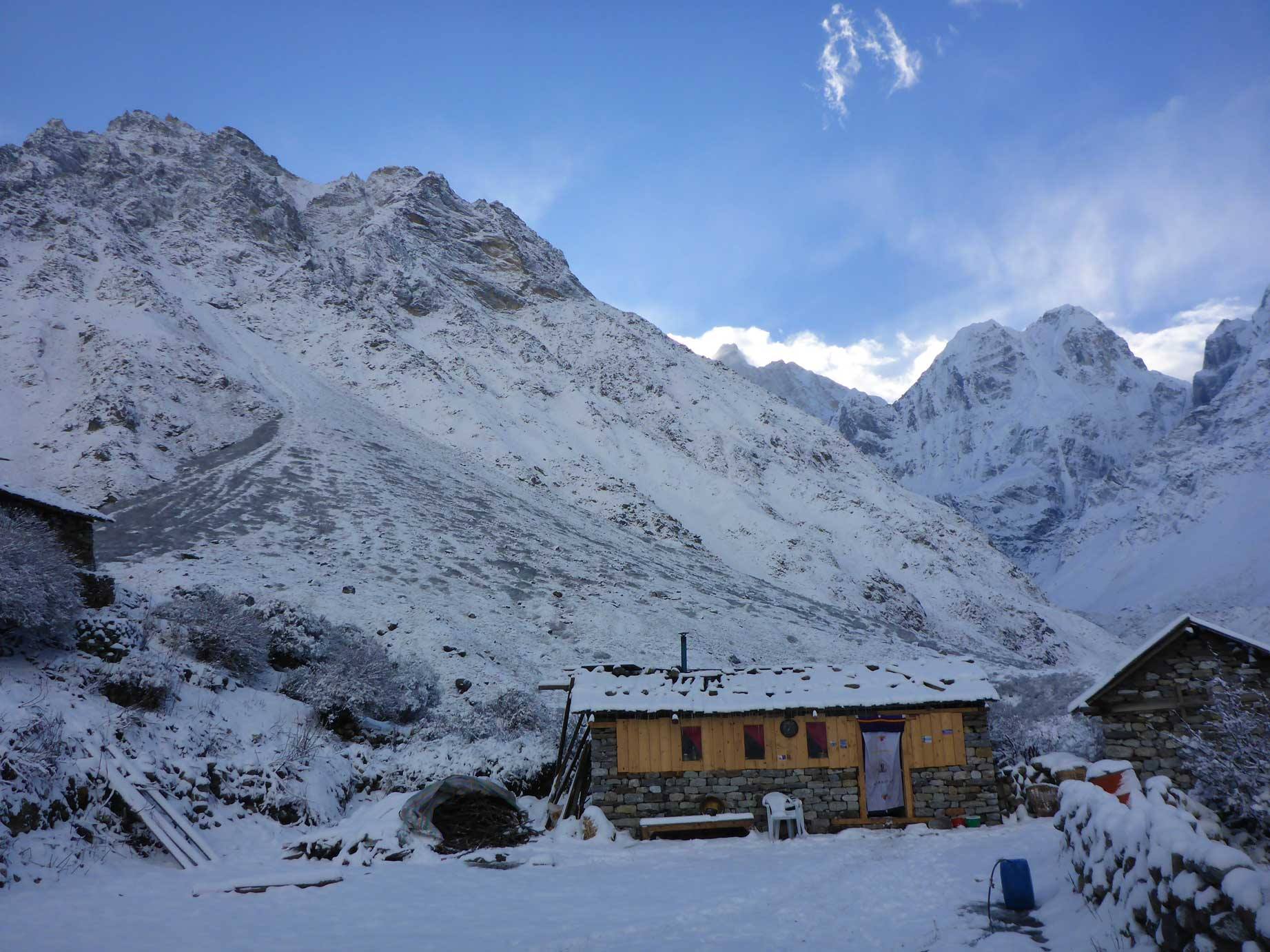 You can choose from the Kanchenjunga South trek, the Kanchenjunga North trek, the Kanchenjunga circuit. Kanchenjunga circuit trek visits both the north and south base camps. Or we can tailor-make an itinerary for you. On all treks, you will meet local Tibetan refugees, who welcome you with hospitality and smiling faces as you walk through rippled farmland, meadows and forests of pink barked rhododendrons. Do not forget to try the warm mildly alcoholic Tongba from the dark wood, and brass ringed pots. Or try a cardamon tea made from the pods of the many plants growing throughout the lower jungles. With very few other trekkers and climbers on the trails, you've assured an extraordinary experience in these beautiful, wild borderlands.
Kanchenjunga Trek Itinerary
| DAYS | ITINERARY | ALTITUDE | TIME |
| --- | --- | --- | --- |
| Day 01 | Fly from Kathmandu to Bhadrapur | 920 m | 1 hr |
| Day 02 | Drive to Taplejung | 1,840 m | 6 hrs |
| Day 03 | Taplejung to Chhirwa | 1,270 m | 7 hrs |
| Day 04 | Chhirwa to Lelep | 1,860 m | 7 hrs |
| Day 05 | Lelep to Amjilosa | 2,400 m | 9 hrs |
| Day 06 | Amjilosa to Gyabla | 2,700 m | 4 hrs |
| Day 07 | Gyabla to Gunsa | 3,420 m | 4 hrs |
| Day 08 | Acclimatization day at Ghunsa | 3,430 m | 2 hrs |
| Day 09 | Ghunsa to Kambachen | 4,050 m | 4 hrs |
| Day 10 | Kambachen to Lhonak | 4,750 m | 4 hrs |
| Day 11 | Day Trip to Kanchenjunga North Base Camp(5,140m) and back to Lhonak | 4,750 m | 11 hrs |
| Day 12 | Lhonak to Ghunsa | 3,595 m | 6 hrs |
| Day 13 | Ghunsa to Sele Le | 4,290 m | 4 hrs |
| Day 14 | Sele Le to Cheram | 3,870 m | 9 hrs |
| Day 15 | Trek to Ramche, Trip to Kanchenjunga South Base Camp | 4,580 m | 7 hrs |
| Day 16 | Ramche to Torongding | 3,005 m | 7 hrs |
| Day 17 | Torongding to Yamphuding | 2,080 m | 8 hrs |
| Day 18 | Yamphuding to Khebang | 1,910 m | 6 hrs |
| Day 19 | Khebang to Khamdime | 1,510 m | 6 hrs |
| Day 20 | Drive to Bhadrapur | 920 m | 6 hrs |
| Day 21 | Fly back to Kathmandu | 1,400 m | 1 hr |
Kanchenjunga Trek Difficulty
Kanchenjunga trek is not Difficult. Trekkers should be physically fit enough to walk for at least 6 hours a day. Acute mountain sickness due to high altitude and the weather is the main problems during the trek.  From the past couple of years, this trail is trekked by many trekkers from around the world. Nowadays, Rescue via helicopter is also possible. But it's not okay to end up the trek in the middle. If you plan your trip with us, it will help you to complete this trek with no issue — trekking with our expert, well-equipped (with equipment like Pulse Oximeter and many more) guides who will monitor your health at least two times a day, You can complete the trek efficiently.
Best Time To Trek Kanchenjunga
Spring & Autumn seasons are the best seasons to trek in Nepal Himalayas. During spring seasons, it starts getting hot on the lower sections like Phidim, and Biratnagar, but temperatures are close to perfect on the upper elevations. The weather is perfect with little wind, Flowers are in full bloom, and entire hills covered with lush green growth. And Autumn season is the busiest month of the year, as the trail and teahouses feel more crowded in comparison to other seasons. Views of the sky, mountains, and nature are superb during Autumn. Therefore The best time for trekking in Kanchenjunga is the months of March to May and  September to November.
Necessary Permits For Kanchenjunga Trek
To trek Kanchenjunga, you need separate permits. The first is Kanchenjunga restricted area entry permit, costs USD 10 per person per week. The second is a Kanchenjunga conservation area(KCA) entry permit, which requires NPR 2,000 per person. You don't need a TIMS Card for Kanchenjunga trekking. TIMS card is not necessary when you hold the restricted area permit(RAP) in any trekking in Nepal.
Kanchenjunga Trek Cost
The entire Kanchenjunga trekking will cost around $1,850. Including all the necessary domestic transportation, permits, guide, porter as well as foods & accommodation during the trek.