Nepal is a country of mountains that doesn't mean you can play snow in Nepal everywhere and anytime. Read on to know the best snowfall places in Nepal.

Many people think that Nepal is a Himalayan country means we can enjoy snowfall everywhere, even in Kathmandu too, but it is completely wrong.
The last time it snowed in Kathmandu valley was in 2007. So it doesn't snow in Kathmandu valley, you have to visit nearest hill station to experience it.
Snowfall in the mountains above an altitude of 6,000 meters is a daily occurrence, but everyone can not go there. So I am going to mention low altitude snowfall places in Nepal to enjoy it fully.
These places are mostly near Kathmandu and Pokhara so that you don't need to spend 10-15 days of holiday for trekking to enjoy snowfall in Nepal.
The best thing to do to enjoy snowfall fully is to make a snowman and playing a snowball battle with friends. I still have a memory of four years ago when I visited Kalinchowk with my friends. Happy times come and go, but the memory stays forever.
You can enjoy snowfall in the nearest hills of Kathmandu and Pokhara during the winter season. Nepal enjoys the winter season from December to February.
In winter, snowfall in base camps of mountains such as Everest base camp and Annapurna base camp is common, but it isn't easy to reach there. Also, everyone doesn't have a long holiday and enough budget to reach there.


So here are the easily assessable snowfall places in Nepal that you should consider visiting in winter season to enjoy it.
Kalinchowk

When someone says that they want to experience snowfall in Nepal, the place that comes in my mind first is Kalinchowk. It is the most famous places to visit in Nepal in winter.
Kalinchowk is located 145 kilometres northeast from the valley. Winter is the peak season of Kalinchowk and the best time to visit too. People rarely visit Kalinchowk in other months.
The place is located at an altitude of 3,845 meters. During winter, Kalinchowk offers an impressive view of mountains along with the snow-covered path. You can see a panoramic view of Manaslu, Annapurna, Ganesh Himal, shisha panga, Langtang, Gunjal Himal and Gaurishankar from Kalinchowk.
It is just a 3day hike from Kathmandu. So everyone can do this trek. The place is also religiously important because of Kalinchowk Bhagwati Temple at the top of the Hill.
The snow-covered white road, a massive crowd of people, humanmade snowman and a temple surrounded by bells, player flags and Trishul makes your journey to Kalinchowk worth.
Chandragiri Hill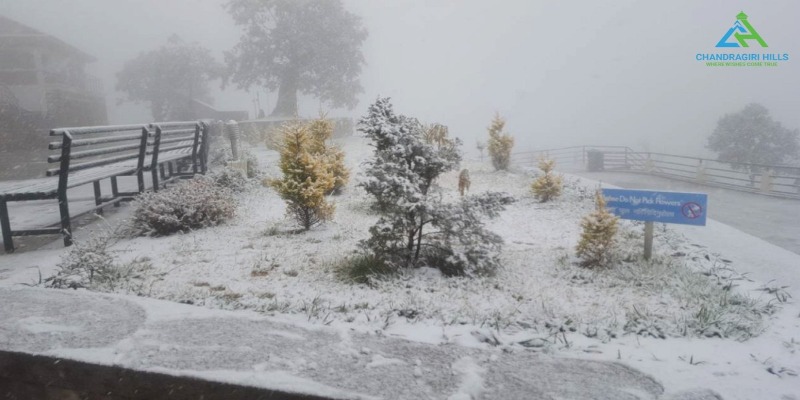 Chandragiri Hill is closer to Kathmandu then Kalinchowk. It is located just 7 kilometres far from Kathmandu valley. The place is the best place to enjoy snowfall in Nepal if you don't want to go far from the city.
The 2.5 Kilometer cable car journey of 10 minutes from the Thankot of Kathmandu takes you to the top Hill of Chandragiri. It offers a fantastic view of the entire Kathmandu valley. The hilltop of Chandragiri is located at an altitude of 2,550 meters.


In clear weather, you can see beautiful mountain views including the top of the world, Mount Everest from Chandragiri.
Snowfall in Chandragiri is not as thick like on Kalinchowk because of the lower altitude. But when it rains in Kathmandu valley, snow in Chandragiri hill is common. It is also famous snowfall places in Nepal because of easily assessable.
The tour to Chandragiri hill is a day trip. Also, the place is religiously important because of Bhaleshwor Mahadev temple. People also visit Chandragiri for Puja and other ritual activities.
The official website and Facebook page of Chandragiri hills give you updated information during winters about when does it will snow in Hill and when not.
Phulchowki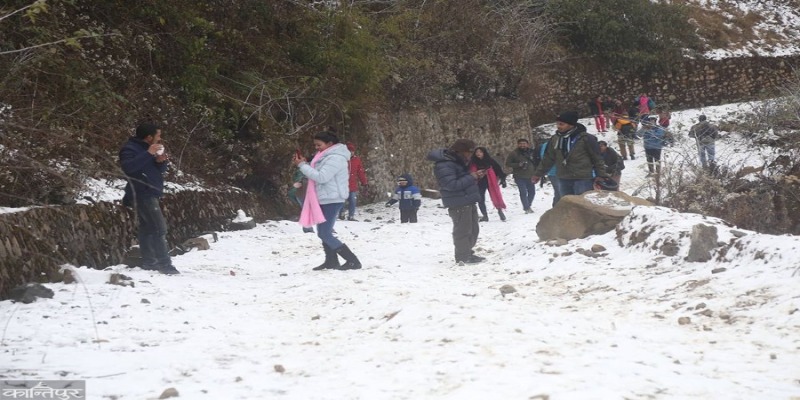 Another best place to enjoy snowfall near Kathmandu is Phulchowki hill. The Hill is located 20km southeast from Kathmandu valley.
The place is very famous for hiking among Nepalese youths. It is a beautiful hilly village located at an altitude of 2,630 m. The area is also renowned for mountain biking and famous for bird watch destination.
The hilltop offers amazing view o Kathmandu valley and surrounding mountains. During winter, the snow-covered path and water streams on the way make your journey beautiful.
Because of situated at a lower altitude the snowfall here doesn't last long, maximum for a couple of days. So you have to be updated on winter weather news and be ready to start your hike.
Since it is on lower elevation and easily assessable by a short hike from Godawari, Phulchowki is the perfect destination to enjoy snowfall in Nepal with kids and old aged peoples.
Nagarkot

Nagarkot, a beautiful hilltop located 32Km far from Kathmandu valley, is a perfect destination for hiking and trekking. The place is very famous because of the gorgeous sunrise and sunset view of the Himalayas.
The Nagarkot is an all-time favourite hike of Nepal. You have a variety of options to visit Nagarkot. You can either take a walk via Sundarijal and Chisapani villages or take drive directly to reach Nagarkot.
During winter months you can enjoy snowfall in Nagarkot hill. Since the Hill is located at a lower elevation of 2,175 meters, the snow here is very less, but the Hill offers impressive mountain views.
The view of Gaurishankar, Langtang and Dorje Lakpa can be seen closer from the hilltop. If the weather is super clean, you can also see Everest ranges from Nagarkot.
Daman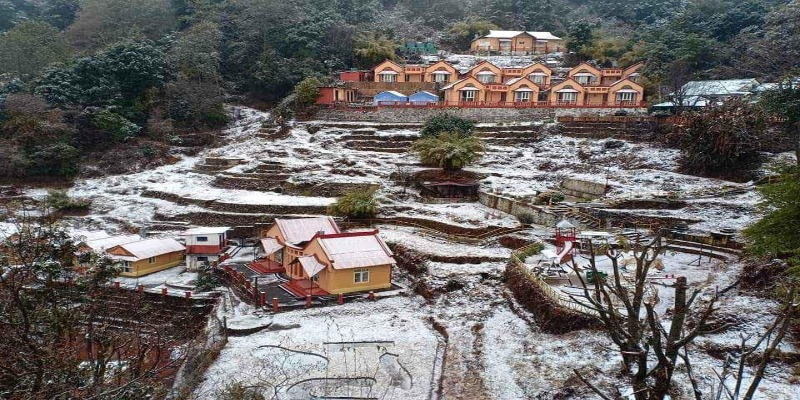 Daman is a beautiful village located 75 km southwest of Kathmandu. The Hill located at the lower elevation of 2,325meters but during winter months it receives heavy snowfall which attracts many local tourists.
It is in between to the Kathmandu and Hetauda. Daman offers a fantastic view of the entire Kathmandu valley and Hetauda.
Other than this the stunning mountains view, and beautiful waterfalls on the way are the main attractions of Daman. If you want to enjoy it further, you can do boating and fishing in the Kulekhani river.
Early January and late March are the best time to visit Daman to enjoy snowfall.
Shivapuri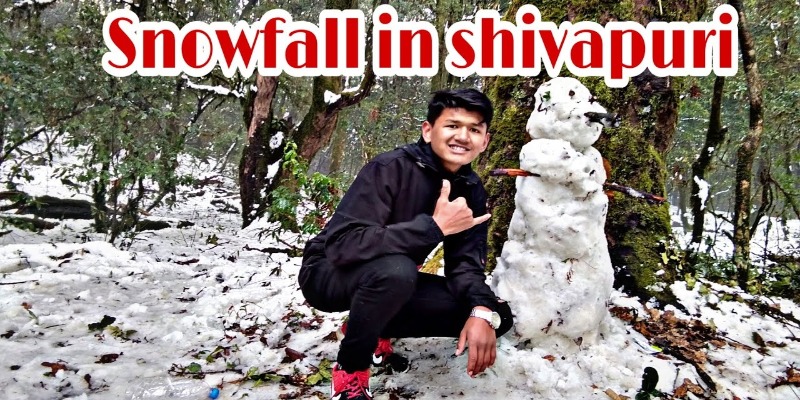 Shivapuri Hill is another nearest destination to play snowfall near Kathmandu. It is just around 30 minutes of drive from central Kathmandu. Shivapuri is the best day hike destination from Kathmandu.
The Hill is located at an altitude of 2,500 meters. Since its also on a lower elevation, the snowfall in Shivapuri is not thick. It will snow in Shivapuri for some days during winters. If Kathmandu receives continuous rainfall for a day and more in winter months, it may be snowfall in Shivapuri. And it won't last long.
Shivapuri National park, Budanilkantha Temple, and impressive views of mountains are the main attractions of the Hill.
Without any doubt, winter is the best time to visit Shivapuri to enjoy snowfall. Still, if you visit the place during spring months, you can experience greenery view and blooming rhododendrons.
Poon Hill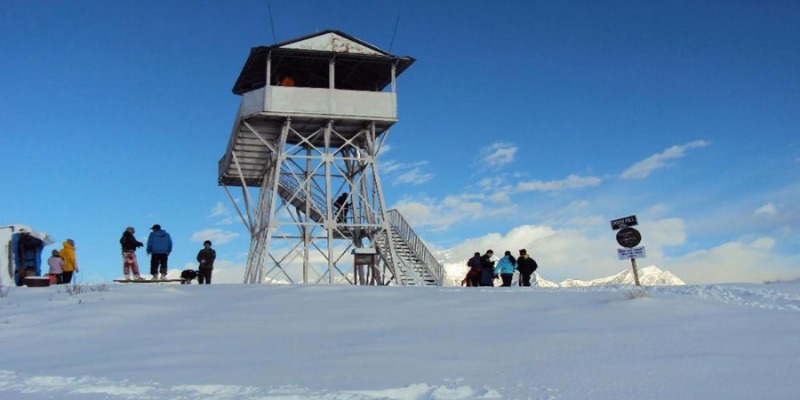 Poon Hill is the best snowfall place in Nepal where you can play with actual snow. The Hill is located at an altitude of 3,200 meters.
Poon Hill is on the way to Annapurna base camp, and near Pokhara. Without any doubt, If you visit Poon Hill during winter, you will experience snowfall almost every day.
Poon Hill offers impressive views of Annapurna and Dhaulagiri range. View of fresh snow-covered mountains is the main attraction of this trek.
Every year more than thousands of group will visit Poon Hill. It is one of the best short treks of Nepal.
Since winter receives heavy snowfall on high altitudes which makes trekking risky so that most of the peoples visit Poon Hill, you can see a massive crowd of tourists everywhere during your trek.
The Poon Hill Trek is a three-day trek from Pokhara, but it takes five days if you were going from Kathmandu.
The small villages like Tadapani, TikheDhunga, Ghorepani of Gurung community will reward you during the trek.
If you have a holiday of 5 days and more, I recommend you to visit Poon Hill.  It allows you to experience snowfall in Nepal because its an actual mountain area and it will snow almost every day as well as it is the real experience of trekking in Nepal.
The best time to visit Poon Hill is spring and autumn months for more comfortable trekking, but winter trekking to Poon Hill allows you to hike on snow-covered trail and enjoy brilliant mountain views.
Conclusion
During winter months, you can enjoy snowfall everywhere in Nepal above 3,000meters. Above mentioned places are some of the best, famous, and nearest places to play snow in Nepal.
Except these, you can enjoy snowfall on various trekking trails of Nepal. If you have enough budget and holiday, you can do Everest view trek to enjoy mountain snowfall, which also offers a fantastic view of tallest mountains including Everest, Lhotse, Ama Dablam and many more.