Read the latest Up To Himalaya reviews here, who did tours and trekking in Nepal with Up To Himalaya Company.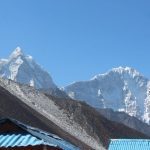 Moshe Perez
Everest View Trek
Visited March 2019
If you are searching for a trekking agency in Nepal to trek, Everest, your search can stop here! Sudeep was amazing to work with. He was patient, responsive, and incredibly helpful. Sudeep was very welcoming and was there throughout our stay to help with anything that was needed.
Our Everest view trek lasted six amazing days and was an adventure of a lifetime. Our guide, Saroj, was the best guide we could have possibly had. He made the trip even more special than it already was. Our trip started with a flight to Lukla. We felt completely safe during our flights! Because we trekked in offseason, We had tea houses to ourselves, and the trails were empty. We had the whole park to ourselves. The skies were blue, and we had mind-numbing views of the Himalaya.
Saroj was AMAZING throughout our trip. We had a ton of fun getting to know Saroj, and he was very attentive throughout our entire trip. He taught us some Nepali and was always making sure we were comfortable. We saw other trekkers that had "guides" that would disappear once they reached their destination for the day. Saroj was attentive to us from the moment we got up to when we turned in for the night. The tea houses that we stayed in were all very friendly. There are many teahouses along the trek, but I felt that we always stayed at the nicest ones. The trekking had a lot of ups and downs, but the hiking was still enjoyable and never became strenuous.
Our porter, Hari was also great. Thank you, Hari, for helping us with our trek!!! Saroj and Hari worked together to make sure we had anything we needed in the teahouses and on the trek. They were a great team!
This was a trip of a lifetime that was made fabulous by an incredible company, guide, and porter. There are thousands of companies in Nepal. If you are searching for a trekking agency to trek in the Everest Region. Your best choice will be to use Up To Himalaya (Sudeep) and Saroj!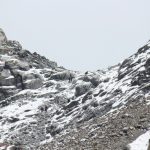 Arpad Evans
Gokyo Chola Pass Everest Base Camp trek
Visited April 2019
I highly recommend including Gokyo Lakes and the Cho La pass into your Everest Base Camp trek – It's only three extra days trekking, and you will not regret it – the views are so much more beautiful than EBC, more challenging yes, but ultimately more rewarding.
We had the most incredible journey with Up To Himalaya. After emailing multiple companies, Sudeep promptly came up with the best option for us along with the best price. So, we were privileged to trek with the best guide of Up To Himalaya Dinesh. When I got symptoms of altitude sickness, he knew all the right things to do. He tailored the experience by balancing all the groups needs to make sure we all made it to EBC, and we all did! His company along the trek was invaluable, a guide/ friend and also hilarious. Dinesh was very attentive to our needs, always making sure we had an extra blanket, were well fed and warm and taught us so much about the land and culture. Dinesh's laugh was infectious, and he brought so much positive energy and support to the group. We had the best chats and laughed with our guide. He was extremely knowledgeable, and his primary focus was our health and wellness. And of course, we couldn't have done it all without our porter Arjun, every day having our bags clean and ready for us before we got to the tea houses.
From Australia, we had plenty of options to go with Intrepid/ World Expeditions/ Gadventures or other Niche companies. We chose Up To Himalaya for multiple reasons:
1) We wanted our money to go towards the Nepal economy, rather than profits going to Australian companies.
2) Their reviews were excellent and were the highest rated Nepalese company.
3) Their overall tour cost was cheaper than the others.
4) They included all meals, accommodation, and extra gear and still managed to be less expensive than Other companies.
After completing the trek, we made the right choice and are so grateful we decided to go with them. We had the most experienced, attentive, generous and thoughtful guide who made this a trip of a lifetime. Thank you to everyone at Up To Himalaya, I hope to trek with you again!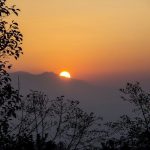 Malia Kelly
Everest View Short Trek
Visited March 2019
This trek was fantastic! Well organized from the start by Mr. Sudeep before we even reached Nepal. Our guide: Prakash and porter: Ram were helpful, friendly and always went the extra mile to make our experience great. Thank you very much. It was a pleasure to meet you all. We would recommend this trek to everyone who has fewer holidays in Nepal. On arrival to the meeting point, my husband and I were greeted warmly, and everything was well planned. We walked through remote villages, had fantastic views of mountains including Everest, learned about plants, and local peoples, and saw some breath-taking sunrises too.
During the trek, we stayed in some great hotels (especially in Nagarkot!) – always with fantastic views of the mountains. We felt well looked after at all times with expert guide and porter. The food that we had on the way was always cooked fresh and tasty. On my birthday while away, Ram and Prakash went out of their way to make it extra special (thank you). We traveled for a month across three countries and this 3-4 day trek was one of our highlights. Will surely come next time with the same company for Annapurna trek.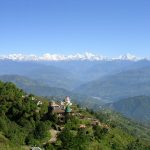 Catherine Edwards
Everest View Short Trek
Visited March 2019
I completed a 3-day trek with these guys going to Chisapani, Nagarkot and then Bhaktapur. Immediately I was sold by their confidence and knowledge of the trekking available to me and also offered me a very fair price. They even let me tailor the trek to what I wanted to do the most. The whole team helped me to feel welcome as I was a solo traveler. I did the trek with just me and my guide Deepak. He was a fantastic guide who was very easy to get along with and quickly became a friend- I would highly recommend him if you want to have a laugh along the way and learn some card games in the evenings. After the trek, the team were still very enthusiastic and invited me back to have tea with them. The views on this trek were spectacular as I had hoped and I can see the Everest range along with other mountains and the sunrise and sunset was also impressive. Thanks to Sudeep for making my holiday unforgettable.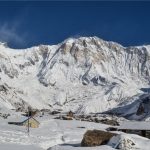 Samantha Martin
Annapurna Base Camp and Poon Hill Trek
Visited March 2019
We booked an 11-day Poon Hill / Annapurna Base Camp trek with Up To Himalaya. From the very beginning, the service was impeccable! The Up To Himalaya team were constructive and flexible in helping us choose the trek best for us given the time we had. They were also able to adjust the itinerary and departure date to best suit us. The trek itself was fantastic; a definite must-do for anyone visiting Nepal! Our guide, Saroj, was extremely knowledgeable and helpful of the area. He would ensure we were adequately prepared for the following day and would always have a friendly chat with us about the area, local stories, mountains, and anything else that came up! We hope to one day return to Nepal and do the EBC trek with Up To Himalaya!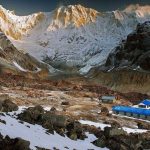 Sarah Lin
Annapurna Base Camp Trek
Visited February 2019
My wife and I went trekking in the Annapurna region in February and traveled with this company. I thoroughly recommend them for their excellent service, genuine friendliness and hospitality and not least because of their very reasonable prices. Sudeep, who runs the company is a delightful man who bends over backward to make sure his guests are well looked after. Nothing is too much trouble for him. Given that I had back problems, I had some initial concerns as to whether I could make it up the mountains, but Sudeep was extremely flexible about the length of our trek and could change details to suit us at the last minute. I would like to thank our guide, Deepak and our porter Rajesh, who were magnificent at all times – they were extremely attentive, unfailingly friendly and good-humored, and without them, we wouldn't have made it to the astonishingly beautiful Annapurna Base Camp. Furthermore, I do believe this company is considerably cheaper than most others out there. Don't hesitate to contact them for the trip of a lifetime!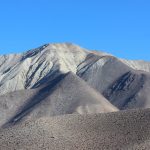 Leis Harrison
Jomsom Muktinath Trek
Visited February 2019
It was an excellent trekking trip to one of the most beautiful and heavenly places on earth Jomsom and Muktinath. Now, I can share this most excellent experience and the story only through nicely planned, arranged and an overall well-organized trip by Up To Himalaya, and its amazingly cooperative and helpful staffs and well-versed guides on the ground. Without a doubt and second thought, I highly recommend and encourage other visitors to engage the Up To Himalaya's services, so you will be fully satisfied with their professional conduct of services and have a lifetime memorable experience.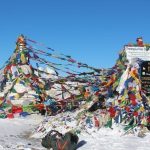 Apolline Brown
Annapurna Circuit Trek
Visited February 2019
I recently completed the Annapurna Circuit with Up To Himalaya and had a truly wonderful time. Saroj, our Trekking guide was outstanding and looked after us very well. He was courteous and professional at all times and very knowledgeable about the Annapurna region. We had a porter called Arjun who was a pleasure to be with, always with a smile on his face and something positive to say. Every evening Saroj would bring us some fruit after our dinner, just one of the many ways he looked after us. Both had perfect English and shared aspects of their life, giving us an insight into Nepali culture. We started the trip as complete strangers, but I feel we finished it as friends. I wouldn't hesitate in recommending either Saroj or Arjun for anyone looking for a guide or porter.
Thanks, Sudeep(with whom I booked my trip), Saroj and Arjun and also all Up To Himalaya family for an experience of a lifetime.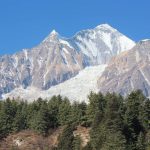 Lokesh Sharma
Annapurna Circuit Trek
Visited January 2019
Just completed the Annapurna Circuit with Up To Himalaya with Dinesh as the guide and Arjun as the porter. I had the most fantastic time. The trek was stunning in the landscape, rewarding in views and overall enriching experience. I thoroughly enjoyed the interactions with local people, which Dinesh and Arjun facilitated. The happiness and warmth they portray are admirable and hugely infectious. Both Dinesh and Arjun were knowledgeable and never grew tired of answering my many questions. I feel I learned so much about the local people and culture, and the country as a whole. Every evening Dinesh joined us after dinner and explained the plan for the next day, giving me a good insight into what was expected. During the day, we took small breaks here and there and shared our snacks.
I found both Dinesh and Arjun very kind and caring, taking an interest in my experience and always ensuring I was well and had everything I needed. Everything was done with such care, and gentleness. Booking with locally owned companies also supports the local economy, which is essential for a country that is so dependent on tourism, besides the enriching experience of having a local guide and porter. I look forward to doing my next trek with Dinesh and Arjun.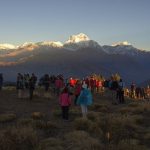 Din Ben Dor
Poon Hill Trek
Visited January 2019
I had an excellent experience with Up To Himalaya. I was having issues with another tour agency that was taking several days to correspond with and was not flexible to my needs at all. 1 email to Sudeep at Up To Himalaya, and within an hour I got a call with a personalized itinerary to suit my time requirements and my athletic ability. On top of that, the team arranged flights for me to/from Pokhara from Kathmandu and pick up from and to the airport. And it cost half the price other companies quoted! And all payments were addressed after my tour. I felt they were focused on me having a good experience rather than any financial incentive. I had an excellent experience trekking the Poon Hill for three days. I was hiking with my guide Dinesh, and he was also excellent. I had space for quiet contemplation when I wanted it or a friendly chat for hours as well. My guide had all the answers to my local questions and was always accommodating for me. From ensuring every room, I stayed at had an excellent view and attached bathroom right down to a friendly wake up call to make sure I didn't miss any spectacular views of the mountains or shooting stars. I felt safe throughout the entire trek and had complete trust in my guide. The team was also really helpful in suggesting things to do and see in Pokhara as well as where to stay.
I will recommend Up To Himalaya for all. I have no complaints, and I very much look forward to my next adventure with them in the future. If you have any doubts about who to book with – go with them.